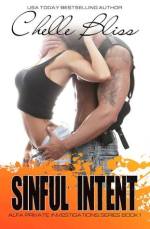 | GOODREADS | MY RATING: ♥|
Goodreads synopsis: Someone was after her and it was my duty to stop them.
Never cross the line. That had always been my rule. But that was before Race True.
The moment I saw her, I wanted her. But there was a problem. She wasn't just another pretty face—no, she was my first client at ALFA PI. My take-what-I-want attitude shouldn't include her, but how the hell can I be expected to keep my hands off?
The danger that followed her had my protective instincts in overdrive. And as the clock ticked down, the choice was laid out before me: save her career or risk everything and have her in my bed. Could I put aside my wants for her needs? Or would my selfishness destroy everything in the process?

My thoughts: Meh! Not worth the time or money. It's right now free on Amazon if you wish to give it a chance, but I would not recommend it and i'm glad that I didn't spend any money on this peace of *not my kind of book*.
I can't understand how this book has such high rating on Goodreads. I was after something easy, sexy and funny with characters to connect with. This however was not anything like that. The plot is thin at best, the hero is an asshole, the heroin is a bitch and nothing was easy, sexy and funny. There was nothing to like when it came to the characters and quite frankly they do deserve each other. There is a different between being tough girl with an attitude and a bitch. This just went in the wrong directions and nothing helped me like the characters when they are that stupid. And that the hero kept telling how much he *disliked* his sweet and caring mother just pissed me off. The story is long and filled with one cliché after another. The start was boring, the middle was just about sex and the ending I kept asking myself "is it over yet?" There was some attempts on suspense and romance but it just felled flat.
I could barely finish and if it was not for the reason that I didn't have the energy to try to choose a new book, I would probably have DNF it. I applaud you who found this one a four-five star book. I do not know what you see in it, but apparently I missed something. My loss I guess.