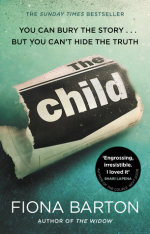 | GOODREADS | MY RATING: ♥ ♥ ♥|
Goodreads synopsis: When a paragraph in an evening newspaper reveals a decades-old tragedy, most readers barely give it a glance. But for three strangers it's impossible to ignore.
For one woman, it's a reminder of the worst thing that ever happened to her.
For another, it reveals the dangerous possibility that her darkest secret is about to be discovered.
And for the third, a journalist, it's the first clue in a hunt to uncover the truth.
The Child's story will be told.

My thoughts: I have seen this book pop up a lot lately both on GoodReads and in the book clubs i'm following on Facebook. The synopsis did intrigue me so bought myself a copy. Didn't know exactly what to expect and now i'm left with some mixed feelings.
In one way I did like the "mystery" and the history. Barton did however leave a lot of clues so I pretty much knew right from the start how everything was connected. She did throw me of there in the middle but in the end my suspicions was correct. That the book was predictable did not bother me in the end due to the really skilled way of writing it.
Other readers have reviewed it as a fast paced and an easy read. I however do not have the same feelings. There was nothing in this book that I would call fast paced and that made it pretty boring big parts of it. It is easy written yes, but it was not an easy read for me. I think due to the boring pace and the repetitive information from the different characters you get to follow made it that way for me. It doesn't necessary have to mean that a book is boring if it is written that way, but in this one I found that it didn't work.
In the end I do find the book likable. The story was intriguing even though predictable and it was somewhat of an easy read. It is a highly popular type of English crime right now and I do feel that it was no waste of time reading it.