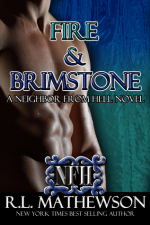 | GOODREADS | MY RATING: ♥ ♥|
Goodreads synopsis: What happens when a Bradford with questionable OCD, a tempter and a reputation for making his employees cry falls for the woman that refuses to accept the fact that he's fired her and was terrifyingly more of a Bradford than he was?
Well, we can't share that here, because it would be seriously inappropriate, but we're sure that you can see where this is leading…
To the altar or a stint in the slammer, either one is possible when it comes to the Neighbor from Hell Series.
Author's Note: This book along with the rest of the series is intended to make you smile, let you relax and forget the drama and stress that plagues our lives even if its just for a little while. This is a drama free book. My goal is to put a smile on your face and I hope this book does that.

My thoughts: This is the 8th book in the neighbor from hell series and I have loved pretty much every single one of them I have read. Except this one. It really did not reach the target this time and that is too bad and even makes me a little sad. Since my accident I'm in a lot of pain and don't sleep well. When I'm not dumping my brain into a random tv show or game on my phone, I try to read. And I really needed some kind of pick me up read that would make me happy and maybe make me feel a little better. I thought that this was the one who would not disappointed me. Unfortunately I was wrong.
The first 30% of the book is pretty funny and good. I am not denying that. There is some good characters and you got to love their reactions and counteractions to each other. Unfortunately it just got to be too much. They kept ranting and same thing happened over and over again. I didn't fall for the heroin in the same way as I'm usually do and find her kind of annoying a lot of the times. Christopher aka Lucifer certainly has more depth than what meets the eye but that is not really showed in the story either. And there is really no plot either. It's to loosy floosy with any real goal.
The whole book feel like something pushed out of thin air with nothing but an idea, without love or excitement for the writing of the book itself. It was weirdly written where it was not that easy at all times to know who talks/thinks and suddenly the point of view shifted to other characters from the earlier books. This has never happened before and was total surprise and I actually thought for a while that my eBook was defaulted. It just didn't make sense at first to be there with Lucifer and Becca and then suddenly you where there with Trevor and Zoe for a whole chapter. Talk about confusing.
I'm still gonna continue the series. Just see this book as an bump in the road and that Mathewson is just human and not even she is flawless. 🙂