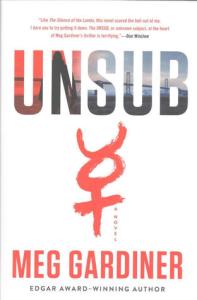 | GOODREADS | MY RATING: ♥ ♥ ♥|
Goodreads synopsis: A riveting psychological thriller inspired by the never-caught Zodiac Killer, about a young detective determined to apprehend the serial murderer who destroyed her family and terrorized a city twenty years earlier.
Caitlin Hendrix has been a Narcotics detective for six months when the killer at the heart of all her childhood nightmares reemerges: the Prophet. An UNSUB—what the FBI calls an unknown subject—the Prophet terrorized the Bay Area in the 1990s and nearly destroyed her father, the lead investigator on the case.
The Prophet's cryptic messages and mind games drove Detective Mack Hendrix to the brink of madness, and Mack's failure to solve the series of ritualized murders—eleven seemingly unconnected victims left with the ancient sign for Mercury etched into their flesh—was the final nail in the coffin for a once promising career.
Twenty years later, two bodies are found bearing the haunting signature of the Prophet. Caitlin Hendrix has never escaped the shadow of her father's failure to protect their city. But now the ruthless madman is killing again and has set his sights on her, threatening to undermine the fragile barrier she rigidly maintains for her own protection, between relentless pursuit and dangerous obsession.
Determined to decipher his twisted messages and stop the carnage, Caitlin ignores her father's warnings as she draws closer to the killer with each new gruesome murder. Is it a copycat, or can this really be the same Prophet who haunted her childhood? Will Caitlin avoid repeating her father's mistakes and redeem her family name, or will chasing the Prophet drag her and everyone she loves into the depths of the abyss?

My thoughts:
An entertaining serial-killer thriller by an author that is new to me. And when I say entertaining, it was just that, for me. Initially I was going with 4 stars. It is an highly complex story with a lot going on. The depth is surprising and oh so well done. When I say deep, I mean Deep! I read a lot of crime thrillers, specially from a cop's point of view and the level of plot building is what Gardiner really succeeded with. I can't say so much more due to spoilers, but when I say that you will probably be surprised, I mean it. I especially liked that the serial-killer doesn't kill due to sexual fantasies or such. It is a lot more deeper and quite refreshing to say it myself.
So why my "low" rating you may ask? Well it is because the rest didn't fall right with me. The character building is quite shallow and the writing is choppy. Maybe I'm overreacting because English is not my native language, but it was not smooth to read. It didn't help me with connecting with the characters either. And that ending! After several pages with high intense suspense and a literal countdown to the end pages, it ends on a note I feel could have been skipped. But it is a series and at least two more books is published so I just hope this "thing" will not be a thing that hunts you throughout the series.
I'm excited to read more and see where Gardiner will go with the story and if she will let us readers go deeper into those characters and not just scratch the surface.