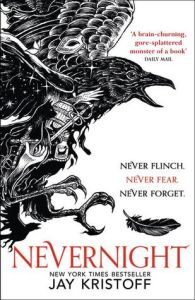 | GOODREADS | MY RATING: ♥ ♥ ♥ ♥ ♥|
Goodreads synopsis: Mia Covere is only ten years old when she is given her first lesson in death.
Destined to destroy empires, the child raised in shadows made a promise on the day she lost everything: to avenge herself on those that shattered her world.
But the chance to strike against such powerful enemies will be fleeting, and Mia must become a weapon without equal. Before she seeks vengeance, she must seek training among the infamous assassins of the Red Church of Itreya.
Inside the Church's halls, Mia must prove herself against the deadliest of opponents and survive the tutelage of murderers, liars and demons at the heart of a murder cult.
The Church is no ordinary school, but Mia is no ordinary student.

My thoughts: This book is marked as a young adult fantasy. Me personally, I would not categorize it as a YA. It is way darker, gorier and explicit than other YA books I have read. And that is probably why I liked it so. There were some rough language but nothing embarrassing or cringe which I often find YA to be. I would place this one in the late young/adult epic fantasy. Thought you should know if you expected something else. 😉
The book is fantastic. It is dark, funny and witty to a degree it is on the border to sarcasm and irony. There is an interesting narrator, funny with a dark sense of humor and all the footnotes (Which I hear so many hate) is such a strong complement to the story without the impression of an author droning away on details. Strong and deep characters with interesting history and personality. Complex and wonderful world building. Notice that it is a man who is the author. Not much lovey-dovey. More strait to the point in a detached kind of way but still capturing and at some points heartbreaking.
Refreshing. Can nothing other than recommend it to whoever wish to read some epic fantasy. If you are new to the genre I would recommend it as an starter before you go into something heavier like, for an example, Robin Hobb, which I also have read some books of.