I had six books on my TBR list for the month of May. Not including the one book from my book club and I'm so excited. I already started Death Note and Hollow City and I have already finished Blindsided. I'm on a roll right now. 😀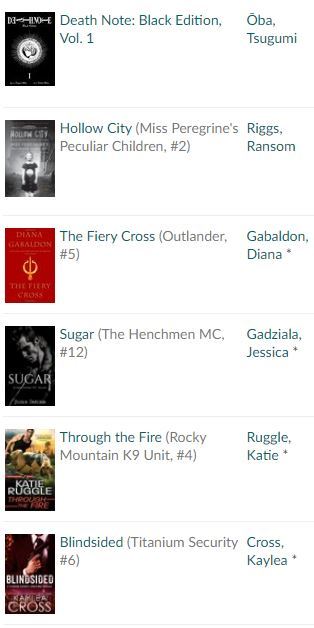 Death note: One of the horror, graphic novels I have really looking forward to. I have the black edition 1, which include vol 1 and 2 in one book, and it is beautiful.
Hollow city, the second book in the Miss Peregrine's peculiar children series. It is time to continue the series since I have this one and the third one on my bookshelf. I have high hopes. I do hope not to high.
The Fiery Cross, the fifth book in the Outlander series. After the fourth book I'm not that excited to continue the series, but will give it a try. Maybe.
Sugar, the 12th book in the Henchmen MC series. I love these guys.
Through the fire, fourth book in the rocky mountain K9 unit. This series has been quite up and down for me, but this is the last one and it is time to close this series.
Blindsided, last book in the Titanium security series. I have wanted to read this one for long time, but never got to it. It is the last book in the series and I was so excited so I started and ended it the first day of May.
What are you planing on reading in the month of May?