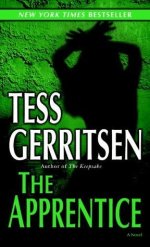 | GOODREADS | MY RATING: ♥ ♥ ♥|
Goodreads synopsis: It is a boiling hot Boston summer. Adding to the city's woes is a series of shocking crimes, in which wealthy men are made to watch while their wives are brutalized. A sadistic demand that ends in abduction and death.
The pattern suggests one man: serial killer Warren Hoyt, recently removed from the city's streets. Police can only assume an acolyte is at large, a maniac basing his attacks on the twisted medical techniques of the madman he so admires. At least that's what Detective Jane Rizzoli thinks. Forced again to confront the killer who scarred her – literally and figuratively – she is determined to finally end Hoyt's awful influence . . . even if it means receiving more resistance from her all-male homicide squad.
But Rizzoli isn't counting on the U.S. government's sudden interest. Or on meeting Special Agent Gabriel Dean, who knows more than he will tell. Most of all, she isn't counting on becoming a target herself, once Hoyt is suddenly free, joining his mysterious blood brother in a vicious vendetta. . . .

My thoughts: I enjoy Tess Gerritsens writing and find her a terrific storyteller. That Jane Rizzoli gets on my nerves all the time and that I sometimes just want to scream, is a testimony for how great her writing really is. I had no trouble with keeping the speed up and there were few slow parts. It is action packed and suspense filled all the way from the first page to the last. Such a great ride. We did pick it up more or less from the end of the first book and we are following the same track with Hoyt and all that, just several months later. I thought it would be excessive and underwhelming, maybe even a little boring to go with the same story plot once again but it was never anything like that and I loved it.
Another thing I love is how great Gerritsen are with the medical explanations. They are never tedious or hard to understand for someone like me who is not that knowledgeable in those subjects. And even though I have seen the TV series several times over and there is not that many differences between the book and the series, I was never bored. I did know the ending before starting the book and I thought that was going to be hard for me but it never was. It was nice to meet some of the other characters that has a big part in the TV series and I was a little surprised because they are a little different. But I do think it will be some changes further on in the book series that I'm exciting to follow.