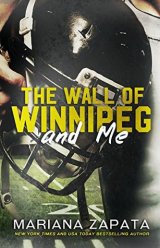 | GOODREADS | AMAZON | MY RATING: ♥ ♥ ♥ ♥ |
Goodreads synopsis: Vanessa Mazur knows she's doing the right thing. She shouldn't feel bad for quitting. Being an assistant/housekeeper/fairy godmother to the top defensive end in the National Football Organization was always supposed to be temporary. She has plans and none of them include washing extra-large underwear longer than necessary.
But when Aiden Graves shows up at her door wanting her to come back, she's beyond shocked.
For two years, the man known as The Wall of Winnipeg couldn't find it in him to tell her good morning or congratulate her on her birthday. Now? He's asking for the unthinkable.
What do you say to the man who is used to getting everything he wants?

My thoughts: I have had like three books by Mariana Zapata in my electronic library for ever and when I finally read this, I certainly do not regret it. I dont know why I hesitated so to read her books. This one for example has an 4,34 in average rating and over 30.000 people have rated it and there is over 3000 reviews on the book. It should say something. But after my experience I do not often like the stuff that "everybody else loves". But I did love this one. Not 5 star loved it but still loved. And I shall explain why.
First of, the book is on like 700 pages, but that I hardly noticed because the story captured me from the beginning. I love the characters and the dynamic in the book. I love the fast, funny banter between them and how it all just evolves. I love the up and downs and I specially love the female character Vanessa. That is a girl with skin on here nose and when you think on here childhood and the person she has evolved till, you cant stop loving her even more. Aiden however is so silent and closed for the major part of the book that its hard to get to know him, but also he is a great characters and you will see that as soon you get to know him.
The reason the book not got a full pot is because it was kind of slow. Not boring slow really, but still slow. Some things could have happen a lot sooner and some stuff should have been said earlier. Due to this it made me not get that 100% connection with the book that I need to have to be able to give a five star review. But the book is pretty damn close and I certainly will be reading more from her.