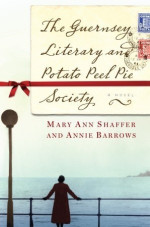 | GOODREADS | AMAZON | MY RATING: ♥ ♥ ♥ ♥ ♥ |
Goodreads synopsis: "I wonder how the book got to Guernsey? Perhaps there is some sort of secret homing instinct in books that brings them to their perfect readers."
January 1946: London is emerging from the shadow of the Second World War, and writer Juliet Ashton is looking for her next book subject. Who could imagine that she would find it in a letter from a man she's never met, a native of the island of Guernsey, who has come across her name written inside a book by Charles Lamb….
As Juliet and her new correspondent exchange letters, Juliet is drawn into the world of this man and his friends—and what a wonderfully eccentric world it is. The Guernsey Literary and Potato Peel Pie Society—born as a spur-of-the-moment alibi when its members were discovered breaking curfew by the Germans occupying their island—boasts a charming, funny, deeply human cast of characters, from pig farmers to phrenologists, literature lovers all.
Juliet begins a remarkable correspondence with the society's members, learning about their island, their taste in books, and the impact the recent German occupation has had on their lives. Captivated by their stories, she sets sail for Guernsey, and what she finds will change her forever.

My thoughts: This is an brilliant, work of art. Brilliant! That you could write a complete story like this, with good character development and fantastic environments and different story lines, just by the form of letters, is beyond me. It is really fantastic and I'm completely in love. I love Juliet, Isola, Kit, Sidney and not at least Dawsey. I love them and that the book eventually ended, made me a little sad.
In this book you get to follow Juliet. An unmarried writer who tries to find herself now that the war is over. London is a broken city and she lives temporarily in a borrowed apartment since her old one got bombed to ruins. She is an strong minded book lover who will not settle, but feels lost in the new world. We get to follow her trough letters to her best friends Sophie and Sidney. Later on to her new friends on the island Guernsey. She wants to write a book but are not happy with the subject she first had chosen. In a pursuit for something she care and want to write about, she travels to the island too meet hear new friends and finds more than just a book to write.
To write a book completely trough letters is an brilliant idea in my opinion. I cannot see the book been written in any other way now that I have read it. I must say that at first I was skeptical. But it gave me as an reader the freedom to imagine and use my mind to fill in the blanks that where not written in words. It felt liberating somehow. The book is written with warmth and humour even though the aftermath of the war is a huge part of this book, and it makes it emotionally hard sometimes.
But as great as it is, it has one flaw in my opinion. First I gave the book a five star rating but after my emotions had settled down and I started to really think about it, I wanted to end it to four stars. That is because of the ending. It ended perfectly, but it went to fast, did not fit in with the rest of the book and I got the feeling that the authors just wanted to get it done. Be over with. But then I looked in the book and wondered, should I really take of a star for ten pages in the end that was not to my complete liking? It felt unfair so I left the rating as I first had put it.
This books also comes as an movie in 2018. I love movies made on books I have read and really looking forward to it. 🙂