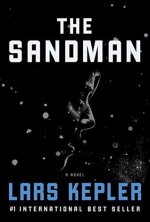 | GOODREADS | MY RATING: ♥ ♥ ♥ ♥|
Goodreads synopsis: Late one night, outside Stockholm, Mikael Kohler-Frost is found wandering. Thirteen years earlier, he went missing along with his younger sister. They were long thought to have been victims of Sweden's most notorious serial killer, Jurek Walter, now serving a life sentence in a maximum security psychiatric hospital. Now Mikael tells the police that his sister is still alive and being held by someone he knows only as the Sandman. Years ago, Detective Inspector Joona Linna made an excruciating personal sacrifice to ensure Jurek's capture. He is keenly aware of what this killer is capable of, and now he is certain that Jurek has an accomplice. He knows that any chance of rescuing Mikael's sister depends on getting Jurek to talk, and that the only agent capable of this is Inspector Saga Bauer, a twenty-seven-year-old prodigy. She will have to go under deep cover in the psychiatric ward where Jurek is imprisoned, and she will have to find a way to get to the psychopath before it's too late–and before he gets inside her head.

My thoughts: Oh the plot thickens around Joona Linna. The ruggish, Finland/Swedish cop in a Harry Bosch, Harry Hole and Jack Reacher spirit.
The Lars Kepler couple (they are a married couple who writhes under that name, if you did't know that) are geniuses. This is dark and twisted. It gives you the creeps and nothing feels okay. It seeps into your dreams at night and until you have read that one last page, you have this bad, tingling feeling. That is how well written these books really are. They embraces you, hides you and sucks you in and won't let you go.
If you like authors like Jo Nesbø, Lee Child, Michael Connelly, David Baldacci,  Steig Larsson, Henning Mankell and so on, you will probably love Lars Kepler. Their story about Joona Linna is just so great and vivid and this series is always one I recommend when people asks.
This is the fourth book about Joona. Dark secrets from the past is revealed, Saga is getting a bigger part and really bad stuff is happening. It is sad, terrifying and oh, I cried at the end. The plot is really good and well thought out. It all feels realistic and true.
I will definitely continue this series.- That is how good it is.