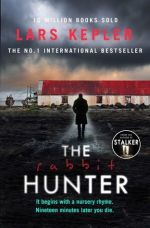 | GOODREADS | MY RATING: ♥ ♥ ♥ |
Goodreads synopsis: It begins with a nursery rhyme. Nineteen minutes later you die…
The sixth gripping thriller in Lars Kepler's bestselling series featuring Joona Linna. Perfect for fans of Stieg Larsson and Jo Nesbo.
There's a face at the window.
A stranger wearing a mask stands in the shadow of a garden. He's watching his first victim through the window. He will kill him slowly, make it last – play him a nursery rhyme – make him pay.
A killer in your house.
There's only one person the police can turn to – ex-Detective Joona Linna – but he's serving time in a high-security prison. So they offer him a chance to secure his freedom: help superintendent Saga Bauer track down the vicious killer known as The Rabbit Hunter, before he strikes again.
Only one man can stop him.
Soon another three victims have been murdered and Stockholm is in the grip of terror. Joona Linna must catch a disturbed predator, whose trail of destruction leads back to one horrific night of violence – with consequences more terrifying than anyone could have imagined…

My thoughts: Joona Linna is back in one more of those intense and thrilling books where he is hunting a cold blooded killer out of the ordinary! Old secrets, new promises and a rabbit hunter is what he tries to unravel. And even though I really liked it and I like all the characters, I find that I don't like this book as much as the others. The reason for that is probably that the whole police investigation alignment is not as prominent as usual and the side characters in the mystery has a much bigger part. It made the old characters fall a little flat and I missed them.
I wouldn't say that it is a bad book but it is the weakest one in the series in my opinion. It is a little too long and slow in the middle. Some stuff didn't make sense since the details were not fulfilling but I don't think they were important for the plot itself so I can ignore it. It still has the same psychological depth, uncomfortable detailed descriptions as always which makes it easy to imagine what is happening and it is certainly terrifying. I did like the history and the old secrets twist but however I did not like the ending. It was a bit confusing but I hope I will get my answers in October when the 7th book in the series has release in Sweden. Will probably be some months before it has a release on English though.
This is the 6th one in the series and they really should be read in order. So you know. I think I have told you that before but one time to many can't hurt.