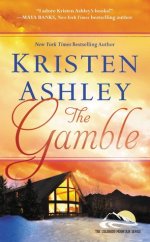 | GOODREADS | MY RATING: ♥ ♥ ♥ ♥|
Goodreads synopsis: Love is the greatest gamble of all…
Nina Sheridan desperately needs a timeout vacation. With a fiancé who can't even remember how she takes her coffee, Nina wants some distance to rethink her engagement. Flying halfway around the world from England to a mountain town in Colorado should do the trick. But when she finds a gorgeous man at her rental cabin, Nina's cold, lonely adventure suddenly heats up.
The owner of the house, Holden "Max" Maxwell is surprised by the beautiful woman who turns up at his door. But when Nina becomes ill, Max spends days nursing her back to health. A private man with a broken heart, Max finds himself drawn to the strong-willed woman. Soon it becomes impossible for Nina and Max to deny their growing attraction to one another. Yet even as these two wounded lovebirds think about taking a chance on a relationship, a dangerous secret from Max's past emerges-and threatens to end their love for good.

My thoughts: O my heart, please calm down! This book was all kinds of sweet and adorable. Right into your heart, knock you on the ass, wonderful. What it is with Kristen Ashley and her books that leaves you with this warm, fuzzy feelings when you are done. She is certainly a great storyteller and even though I felt this one was somewhat predictable, I didn't mind. Because I was lost and cozy deep in the story and loved my journey to the end even though I had pretty much figured it all out.
KA is a fantastic writer with the ability to write great Heroes and Heroines you can not do other than love. Specially the guys. I loved Max. I loved how real he was. With his history, life and courage. I'm not a big fan on the the dead spouse plot, but it did work in this book. It didn't get a lot of focus which I believe is the reason for that it worked. I really liked Nina too, though she was a little to immature for a grown woman in the middle of her thirties and with the bad history and experience as she had, I feel she should have been able to handle some stuff a lot better than she did. But I could ignore it for the most part and just enjoy her and Max and the story unfolding. There is also some great second characters and side plot unfolding beside the main one. There is also another small love story at the side and it is just wonderful to take part of it.
This is a book that sucks you in. You do not have a choice. And when done, you also want your own A-frame in a Colorado mountain with your own Mountain main. I do not have a A-frame in the Colorado mountain and will probably never have since I then have to move to the other side of the world. Fortunately, I already have my Mountain man so i'm okay with that.