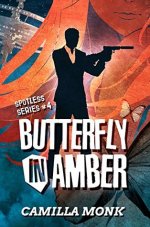 | GOODREADS | MY RATING: ♥ ♥ ♥ ♥|
Goodreads synopsis: He's waiting for you…
Under a blanket of snow, surrounded by dark woods and a frozen sea, lies an ogre's castle. There lives a little princess, trapped in the maze of her own mind.
On a battlefield where the past meets the present stand a fairy godmother and a pirate, an old ice cream man and a knight in shining clean armor…
The clock is ticking fast, and to pierce the ogre's secrets and defeat him, Island Chaptal will have to fight to remember…and stay alive.
Can the Lions and the Roomba cats be stopped before it's too late?

My thoughts: I was pretty angry with Monk when I ended the third book in the series. I was not yet ready to read the fourth book and had actually other plans for my next TBR. But she pretty much forced me to continue with that ending of the third book. I do not like to be forced to do things and it is not a good thing to have me go into a book a lot frustrated, a little angry and hoping for something more satisfying this time. Thank you for not disappointing me.
I was a little confused at the beginning of the book. I did not read it since I was at work but could not wait so ended up listening on it. The audiobook is wonderful and the narrator Amy McFadden is fantastic. Spectacular! The story started of really weird and it took me a while before I understood what was really going on. It is different from the first three books. It is even more darker and serious. I miss the ironic humor and *give a shit* attitudes but I see what Monk was going for here. It is also a lot more action filled than the third book and it is certainly quite a ride. It did get little excessive in the end but if it is something Monk is good at, it is surprises. And it was certainly quite a surprise.
I'm happy that I did get answers on all my questions *whew* but I do want more. Just a little more. To settle it all down. And I'm not the only one apparently since Monk have written a fifth book in the series due to the popular demand.
The series as a whole is great, so fun and wonderful. It is hard to not fall in love with the characters and just, oh I wish they were real. That is how fantastic it is.