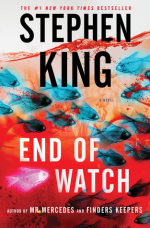 | GOODREADS | MY RATING: ♥ ♥|
Goodreads synopsis: In Room 217 of the Lakes Region Traumatic Brain Injury Clinic, something has awakened. Something evil. Brady Hartsfield, perpetrator of the Mercedes Massacre, where eight people were killed and many more were badly injured, has been in the clinic for five years, in a vegetative state. According to his doctors, anything approaching a complete recovery is unlikely. But behind the drool and stare, Brady is awake, and in possession of deadly new powers that allow him to wreak unimaginable havoc without ever leaving his hospital room.
Retired police detective Bill Hodges, the unlikely hero of Mr. Mercedes and Finders Keepers, now runs an investigation agency with his partner, Holly Gibney—the woman who delivered the blow to Hartsfield's head that put him on the brain injury ward. When Bill and Holly are called to a suicide scene with ties to the Mercedes Massacre, they find themselves pulled into their most dangerous case yet, one that will put their lives at risk, as well as those of Bill's heroic young friend Jerome Robinson and his teenage sister, Barbara. Brady Hartsfield is back, and planning revenge not just on Hodges and his friends, but on an entire city.

My thoughts: Naah! In my opinion I could have skipped this book. Make my own ending and be good with it. Because this was boring. I think the idea was great and the plot was sufficient, but it was never captivating, interesting or exciting. Halfway through I wanted to DNF but I made a commitment to finish the series. (I'm horrible bad on finish series.) Besides, I do like the characters Bill and Holly so it was nice to follow them for a while more.
This one in the series is absolutely a lot more like the Stephen King we know and love. And I think it is that who wrecked it for me. The first two books are so painstakingly normal that going in the third book with that type of fantasy twist, made it disconnect from the first two books. It was only the characters who made it clear it still was the same series since it was so, so different. Others probably loves that type of thing. I however do not.
King is such a hit and miss type of author for me. Some books I love, others I don't. It is funny how similar it can be even in a series. I loved the first book, the second was okay and the third I could have done without.