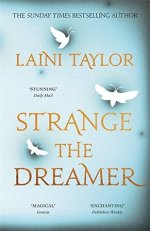 | GOODREADS | MY RATING: ♥ ♥|
Goodreads synopsis: THE DREAM CHOOSES THE DREAMER
Since he was five years old, Lazlo Strange has been obsessed with the mythical lost city of Weep, but it would take someone bolder than he to go in search of it. Then a stunning opporunity presents itself – in the person of a hero called the Godslayer and a band of legandary warriors – and he has to seize his chance or lose his dream forever.

My thoughts: I'm finally DONE! Thought I never see the day. It is so slow and what the heck is I missing? Did I even read the right book because quite frankly, I can't see what's all the raving about. It is so dark. Incredibly dark and slow and with a terrible ending. Not a series I wish to continue to say it frankly.
I got through it and I did like parts of it to be honest. Other not so much. And I had such issues getting into it. I got to around 150 pages and had to put it down for several weeks before I could start it again. And only because I'm waiting on the January book club book that should be here any day now and I'm trying not to start anything new.
The world of Lazlo and Weep is certainly one heck of a good writing. I give you that. The environment and descriptions of both characters and history is wonderfully done and I really liked the character Lazlo. I can see the charm and maybe understand why others like this so much. For me personally it just never hit home. I'm not much for those heavily angst-ridden, young adults, fantasy themed books that are so popular nowadays. I need some velocity to get hooked in that kind of themed book. Like the ACOTAR series for an example. That had everything I wanted, needed and sought for. This one? Not so much.