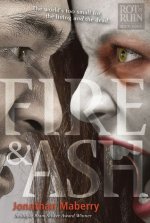 | GOODREADS | MY RATING: ♥ ♥ ♥ ♥|
Goodreads synopsis: Benny Imura and his friends have found the jet and Sanctuary, but neither is what they expected. Instead of a refuge, Sanctuary is a hospice, and the soldiers who flew the plane seem to be little more than bureaucrats who have given up hope for humanity's future. With Chong hovering between life and death, clinging to his humanity by a thread, Benny makes a startling discovery: A scientist may have discovered a cure for the zombie plague. Desperate to save Chong, Benny and his friends mount a search and rescue mission. But they're not the only ones on the hunt. The reapers are after the cure too, and they want to use it turn all the zombies into superfast shock troops and wipe humanity off the face of the earth.
In this riveting conclusion to the Rot & Ruin series, the battle to end all battles is just beginning.

My thoughts: This was supposed to be the last one in the series about Benny, Chong, Lilah, Nix and all the other characters in USA's Zombie infested Badlands. And what an end. This is how you end a series in a satisfying manner. Now this is no longer the last book and I'm quite frankly glad for that, because I want, no I NEED to know how the story will continue. It was a perfect ending yes, but I have come to know these characters. They are my friends, my brothers and sisters and I love them. I wish to know that it will be even better for them. How can I not? I'm a reader and no others than other readers understand what I feeling right now. And I need more.
I have more or less loved the books in this series. Some more than others. This fourth book I found better than the third one. The reason for that is because all the religious jabber, was a lot less and therefore not as irritating and Maberry also moved forward from the place I felt he stood still and turned the story in a great direction. It was exiting, interesting and it was hard to put the book down. Joe Ledger (my bookish boyfriend) even got a much bigger part which I off course LOVED. For those who doesn't know, he is a character from another series by Maberry.
The character development throughout the series has been an magnificent work of art. It happens so slowly that you do not even realize how they grow, change and evolve until the end. Overall a great book. Not a full five star rating however. I felt I missed something, maybe it is the whole deal with Chong, because that was not satisfying enough for me.