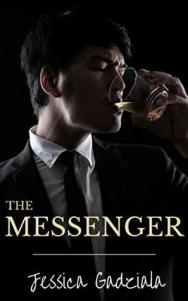 | GOODREADS | MY RATING: ♥ ♥ ♥ ♥|
Goodreads synopsis: He's loved her since the day he met her. She's been either oblivious or uninterested.
And now she is set to marry another man.
So, he decided he had to let her go.
But when he finds her on what was supposed to be the happiest day of her life, staining her wedding dress with tears, needing help, he realizes he had never let go. And now that he has the chance, he will stop at nothing to show her that he was the one she was meant to be with all along.

My thoughts: I'm happy for Kai to finally get his HEA. He have been a side character in the first two books but his love for Jules have never been a secret. And damn this was intense and yes, it was a good book. But at the same time, I'm little disappointed. I expected Jules to be this bad ass, strong woman, who just had no idea that Kai had a thing for her. Then it turns out she had known all the time, misinterpret (maybe) her own feelings and never acted on it. Kind of meek and submissive and not in the good way. It made the story a little to unrealistic and certainly not what I had expect. Then the whole like me, like me not, needs time, do not need time cabal back and forth, just irked me. But Kai totally saved it. I love him. He is the perfect guy. And maybe I love him more than other characters because he reminds me of my own man, but hey, we are not laying not on that.
The plot was believable and new compared to what Gadziala usually writes. However somewhat unsatisfying and anticlimactic with the whole Gary thing. I wish we got to follow Bellamy instead according to that topic, but that just me I guess. I crave the more darker stuff in these type of books.
Next up is the fourth book in the series and I'm so exciting. Because there you will (I have heard) get to know the whole truth behind Eli's incarceration and the circumstances surrounding those characters. But I'm going to save it to a time where I do not have to work. Hate to read those really good books, but then have to go to work.