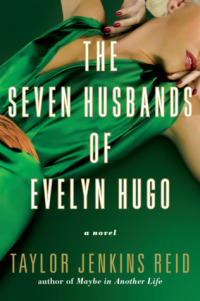 | GOODREADS | MY RATING: ♥ ♥ ♥ ♥ ♥|
Goodreads synopsis: Aging and reclusive Hollywood movie icon Evelyn Hugo is finally ready to tell the truth about her glamorous and scandalous life. But when she chooses unknown magazine reporter Monique Grant for the job, no one is more astounded than Monique herself. Why her? Why now?
Monique is not exactly on top of the world. Her husband has left her, and her professional life is going nowhere. Regardless of why Evelyn has selected her to write her biography, Monique is determined to use this opportunity to jumpstart her career.
Summoned to Evelyn's luxurious apartment, Monique listens in fascination as the actress tells her story. From making her way to Los Angeles in the 1950s to her decision to leave show business in the '80s, and, of course, the seven husbands along the way, Evelyn unspools a tale of ruthless ambition, unexpected friendship, and a great forbidden love. Monique begins to feel a very real connection to the legendary star, but as Evelyn's story near its conclusion, it becomes clear that her life intersects with Monique's own in tragic and irreversible ways.

My thoughts:
"Can an author write so perfect that you in the end, are questioning your very own existence?"
Let me first say that I had no idea what to expect when going into 2018 most mentioned book. What I did know is that it had an interesting synopsis and I kept seeing it in my Goodreads and Youtube feed. Trying not to be caught up in the hype wave I have "ignored" it for some time while it was in my TBR pile. Well I have certainly stopped ignoring it now and joined the hype train. *toot toot* Here I come because wow this was so worth the wait!
Can a book be this perfect? Can an author write so perfect that you in the end, are questioning your very own existence? Can a story be so consummated that you start to wonder "was this really a fiction?". I know that this is supposed to be a literary fiction but it was read more like a chick lit/true story. A deep chick lit with none of that "hubba bubba" love. It was just about life. From the beginning to the end! Honest from page one. It is the most well- devolved, character driven story I have ever read, where you have it all from the emotion spectrum. Love, hate, delight, rejection, pleasure, sadness, courage, fear, anticipation, hopelessness, willing, anger, grief, strengths and everything else.
There is so many human destiny's and so much feelings, in so many different ways crammed between the covers that you can't help but wonder, is it true? I ended the book at work and literally wanted to cry, not suitable for an open office landscape. I could not (off course) cry there and then but that is how strong of impact it had on me. It is so much grief and agony but still so much love that in the end it is worth it. Don't believe me? Believe the other 33 000 people who have given it a five star rating on Goodreads.