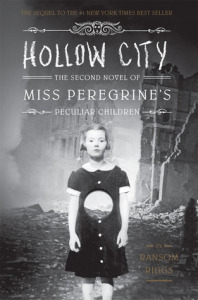 | GOODREADS | MY RATING: ♥ ♥ ♥ ♥|
Goodreads synopsis: This second novel begins in 1940, immediately after the first book ended. Having escaped Miss Peregrine's island by the skin of their teeth, Jacob and his new friends must journey to London, the peculiar capital of the world. Along the way, they encounter new allies, a menagerie of peculiar animals, and other unexpected surprises.
Complete with dozens of newly discovered (and thoroughly mesmerising) vintage photographs, this new adventure will delight readers of all ages.

My thoughts:
"If it was not for the cliffhanger in the end, I would probably have enjoyed it even more."
The second book in the Peregrine's children series follows right at the end of the first one and also ends on a cliffhanger. Just want to make a note of that. It is a great, complicated story with a imaginative plot. Some of the reviews I have read have found the second book not nearly as good as the first one. I however actually like it more. It may or may not be because I saw the movie of the first book first, but I really enjoyed the second one. I like that it was more that happened since the children now is traveling instead of being in that one house.
In comparison I would have given the first book three stars (I will not change) instead of the four I gave, since I found the second one to better than the first. I even found it a little funny at some times and it surprised me. I'm loving that. And the pictures, oh it makes the whole book more fascinating and a feel of completion.
It is as well written as the first book and a lot more detailed. We meet more characters, receive more history and we get to know more about the friends and enemies of this world. It is a brilliant dynamic which Riggs has done a fantastic work describing in a way I cannot put my words on. If it was not for the cliffhanger in the end, I would probably have enjoyed it even more.