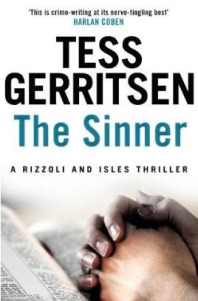 | GOODREADS | MY RATING: ♥ ♥ ♥ ♥ ♥|
Goodreads synopsis: Not even the icy temperatures of a typical New England winter can match the bone-chilling scene of carnage discovered at the chapel of Our Lady of Divine Light. Within the cloistered convent lie two nuns–one dead, one critically injured–victims of an unspeakably savage attacker. The brutal crime appears to be without motive, but medical examiner Maura Isles's autopsy of the dead woman yields a shocking surprise: Twenty-year-old Sister Camille gave birth before she was murdered. Then another body is found, mutilated beyond recognition. Together, Isles and homicide detective Jane Rizzoli uncover an ancient horror that connects these terrible slaughters. As long-buried secrets come to light, Maura Isles finds herself drawn inexorably toward the heart of an investigation that strikes close to home–and toward a dawning revelation about the killer's identity too shattering to consider.

My thoughts:
"I can't believe it took me as long as it did to fall for the series, but I finally did."
What a great book. This was so good. Best one so far in the series. And now that I'm finally starting to not compare the books to the TV series, I enjoy it even more. I couldn't wait with the fourth book so I threw myself over that one just seconds after I was finished. That is how good this was. That is how invested I'm starting to be in the "lives" of Isles, Rizzoli and all the other characters.
Crime and mystery is always a genre I feel at home with. It was the first type of books I loved in my early teenage years, long before I found romantic suspense and I love when authors can bring in something "new" in a genre where it is pretty much the same in different colors every time. And I love this series. It is down to earth with no excessive, over the top, murder cases. It feels realistic, believable and captivating with all that secrets unraveling. And all that personal life, Oh it is just so well balanced together and beautifully done. I can't believe it took me as long as it did to fall for the series, but I finally did.