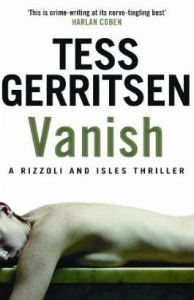 | GOODREADS | MY RATING: ♥ ♥ ♥ ♥|
Goodreads synopsis: Medical examiner Maura Isles is looking at another body in a slab. Not a new experience for her, but she's in for another shock when the body opens its eyes and proves to be alive. And violence swiftly follows, as the mystery woman–strikingly beautiful–kills a security guard in the hospital she's taken to, before capturing a group of hostages. One of them is a pregnant woman–Detective Jane Rizzoli, no less. And if Jane can find out what this lethal abductor wants, she may be able to save her own life–and those of the other hostages. But the clock is ticking.

My thoughts:
"A brilliant thriller with a topic we cannot forget about."
Done with the fifth book and even though I did not find it as good as the third and fourth one, it was still a great book. The plot line, even though it was published back in 2005, is still relevant to this day and it's terrible to think how true it actually is. A brilliant thriller with a topic we cannot forget about. Human trafficking is a multibillion dollar industry and there is a lot of sick and powerful people out there who defends it. I'm not turning this review to a political debate, but it is disgusting to know that there is people out there who do and enjoy this is making me sick.
The characters feel a lot more stable and grounded which gives the book a feel of completion. It is warm, nice and captivating in a way where it is hard to put it down. I did not find it just as good as the last two due to some parts I feel went by too fast. But other than that, this is still a great series I want to read more from. It's so good and to think that this one is almost 15 years old is quite impressive when you think about how far the technology have gone forward in those few years. Just imagine what is to come when continuing and reading the next 7 books.