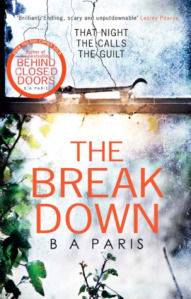 | GOODREADS | MY RATING: ♥|
Goodreads synopsis: Cass is having a hard time since the night she saw the car in the woods, on the winding rural road, in the middle of a downpour, with the woman sitting inside—the woman who was killed. She's been trying to put the crime out of her mind; what could she have done, really? It's a dangerous road to be on in the middle of a storm. Her husband would be furious if he knew she'd broken her promise not to take that shortcut home. And she probably would only have been hurt herself if she'd stopped.
But since then, she's been forgetting every little thing: where she left the car, if she took her pills, the alarm code, why she ordered a pram when she doesn't have a baby.
The only thing she can't forget is that woman, the woman she might have saved, and the terrible nagging guilt.
Or the silent calls she's receiving, or the feeling that someone's watching her…

My thoughts:
"Unfulfilling, a little melodramatic and anticlimactic."
It is the first time I read anything by Paris and I have to say that I'm surprised over how little I liked it. Had its moments of course, but it was not what I had expected and not really for me and I love Thrillers.
I would call it a straight forward, light, predictable, thriller, where you are not supposed to think too much. The writing is mediocre and the last 50 pages was filled with misspellings. It makes me wonder how many misspellings there was in the whole book. Since English is not my first language, misspellings is mostly something I do, not detect and if I do see some, there is usually a lot more that I do not see. And that it was so many makes me feel that both author and editor just gave up in the end. And the whole "mystery unravelling" through SMS is, for me, a cheap and unimaginative way of unravel all the secrets. The ending is nothing to boast about either. Unfulfilling, a little melodramatic and anticlimactic.
And I didn't like the character that much. Specially the main one, Cass. How can you be so gullible, naive and whining but still be so "smart" in the end? There are just several things that are contradicting each other and that makes me want to throw the book away. Unfortunately I had made a commitment to read it and in the end it did have some moments and I'm satisfied enough to finish it. I would however not recommend it to a fellow reader.