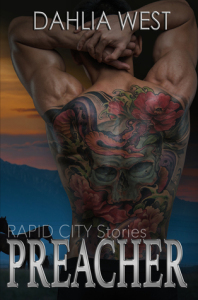 | GOODREADS | MY RATING: ♥ ♥ ♥ ♥ ♥|
Goodreads synopsis: Jack "Preacher" Prior is at a crossroads — literally. Left for dead in the Badlands, he's managed to survive. He's stolen a truck, but where can he go? Body broken, mind reeling from betrayal from his own MC brothers, he knows he won't last a day back in Rapid City in his current condition.
Two roads stretch out in front of him. One leads to the city and one deep into the black hills where no one knows him as the former President of the Badlands Buzzards. Revenge is not a question; it's an absolute. Preacher will get his due soon enough or die trying.
Erin Walker is at a crossroads of her own. Dealt a bad hand by being the daughter of Buck Walker, ex-Rodeo Champ, she's made her own way in the world without his help. She owns Thunder Ridge Ranch outright, and she's carved out a piece of paradise for herself with her own two hands. She's not giving it up without a fight, but she's alone in the world with no one to trust.
In Erin, Preacher finds something that doesn't exist in his own world: a smart, fierce independent woman who sets his blood on fire. For Erin, the mysterious man who threatens her life might very well be the only one who can save it.
Can Preacher put aside his desire for revenge against his old MC and accept what's in front of him: a woman who needs him and a future worth having? Erin knows in her heart that Preacher is a bad, dangerous man, but can she trust him anyway?

My thoughts:
I read Preacher for the first time back in early 2017 when I was still riding that contemporary romance in a MC gang wave and it is just as good as I remembered. It is an easy enough story to follow, deep and developed characters and just enough romantic suspense that makes it more of a feel good book and certainly made me nostalgic and thirsty for more.
I have had Preacher on my "To be read again" list for some time. I missed Jack, Erin, King, Bee and the Thunder Ridge farm. I missed that "easy" suspense and deep romantic struggles between two different people with completely different worlds. I love that Erin is one hell of a strong character and how Jack not only saves her, but she saves herself to. The end is a little too easy, just as I remembered thinking last time, but still really, really good.
This is supposed to be the first one in a series. West, I'm still waiting. 😉