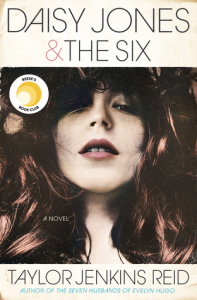 | GOODREADS | MY RATING: ♥ ♥ ♥ ♥|
Goodreads synopsis: Everyone knows Daisy Jones & The Six, but nobody knows the reason behind their split at the absolute height of their popularity . . . until now.
Daisy is a girl coming of age in L.A. in the late sixties, sneaking into clubs on the Sunset Strip, sleeping with rock stars, and dreaming of singing at the Whisky a Go Go. The sex and drugs are thrilling, but it's the rock and roll she loves most. By the time she's twenty, her voice is getting noticed, and she has the kind of heedless beauty that makes people do crazy things.
Also getting noticed is The Six, a band led by the brooding Billy Dunne. On the eve of their first tour, his girlfriend Camilla finds out she's pregnant, and with the pressure of impending fatherhood and fame, Billy goes a little wild on the road.
Daisy and Billy cross paths when a producer realizes that the key to supercharged success is to put the two together. What happens next will become the stuff of legend.
The making of that legend is chronicled in this riveting and unforgettable novel, written as an oral history of one of the biggest bands of the seventies. Taylor Jenkins Reid is a talented writer who takes her work to a new level with Daisy Jones & The Six, brilliantly capturing a place and time in an utterly distinctive voice.

My thoughts:
Is it as good as the seven husbands of Evelyn Hugo? That is one big question and to be frank, I have to say….no! No it is not, but it's pretty damn close.
Daisy Jones and The Six! What a story and I so wish it was real. Just so that I could listen to the music, read more about those people and see picture after picture. It is quite an epic plot and story, just as character driven as expected. It was an amazing story, the characters are deep, complicating and Reid has done a wonderful job creating the atmosphere and settings of the 1970's rock and roll environment and mindset. The writing is beautiful, easy, jet complicating to such a degree where you feel constantly pulled in. Just as I remember from TSHOEH and I'm happy that it was not just a fluke, but Reid really does have an talent for artful writing.
It keeps touching difficult subjects as drugs, sex, abortions, marriage, cheating, children, family and so on. But my biggest problem with it is that it lacked the deep it needed and somewhat expected. I missed that angst filled aura which grabs your heart, rips it in shreds and then glues it back together before it shoves it back in your chest with an force out of this world. TSHOEH had it, DJATS has not. I felt it was somewhat flat, missing that emotional punch and the ending came way to fast.
But Taylor Jenkins Reid is one talented author and I have gotten even more interested in reading all of her books now.