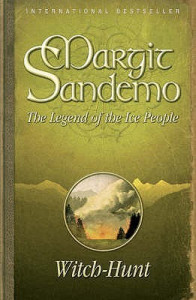 | GOODREADS | MY RATING: ♥ ♥ ♥ ♥|
Goodreads synopsis: Seventeen year-old Silje Arngrimsdotter struggles to come to terms with the harshness of life in a high mountain valley among the witches and warlocks of the mysterious Ice People. Having fled there for her life with her adored 'wolf man' and two foundling infants from the Trondheim plague, Silje has bravely borne their first child.

My thoughts:
The second book in the legend of the Ice people starts of a couple of years later after the ending in the first book. Silje is struggling with the burden of being a house wife, the weight of being a good mother, wife and the stress with poverty. There is dark clouds in the horizon and after unfortunately happenings, they have to flee the valley that have kept them safe for the last couple of years.
I have read this book before and it's hard to try to review books I already read several times over. One thing I found now that I read it a third time and in adulthood is that it is a lot "easier" than I remember. It is still great and I love how intricate it's starting to be, but it's easy to follow, quick to read and not as deep as I remember. Not a bad book no. I would still give it the same rating as I did when I was younger. I only react over the different ways I perceive the book now.
For you who doesn't know about this series, here are a short description.
The series is in 47 parts. We are following the Ice People with a start in the late plague ridden 16th century. It is about witches and wizards and a huge curse. Kings, queens and wars takes a big place in the story line. We are following them from generations through generations. Through birth, love, hate, good and bad stuff, war, more child births and eventually death. It is highly intricate and therefore should be read in order.