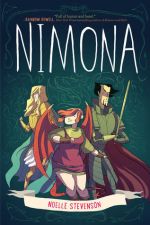 | GOODREADS | MY RATING: ♥ ♥ ♥|
Goodreads synopsis: Nemeses! Dragons! Science! Symbolism!
Nimona is an impulsive young shapeshifter with a knack for villainy. Lord Ballister Blackheart is a villain with a vendetta. As sidekick and supervillain, Nimona and Lord Blackheart are about to wreak some serious havoc. Their mission: prove to the kingdom that Sir Ambrosius Goldenloin and his buddies at the Institution of Law Enforcement and Heroics aren't the heroes everyone thinks they are.
But as small acts of mischief escalate into a vicious battle, Lord Blackheart realizes that Nimona's powers are as murky and mysterious as her past. And her unpredictable wild side might be more dangerous than he is willing to admit.

My thoughts: It was a cute story. I do however not feel that I'm experienced enough in the genre to give an equitable review. I do not know what is common among comics and what is not. So I will instead write about how I perceived it. Just my point of view as an graphic novel/comics virgin.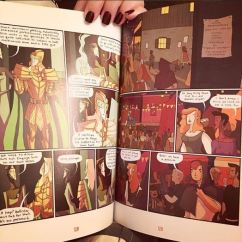 First off, it was a great art work. I love how simple, yet elaborate the drawings are. She really choose her colors perfectly and I must say that I enjoyed the color shifts that were depending on who of the characters you were following at the time. I took a picture of a page where you clearly can see the differences and since I had a little trouble with the fast shift in subjects, characters and environment, it did really help me.
I think however I missed the point of the story. Or there is no point. Or there is a hiding meaning, but I'm just too dense to understand it. Either way, I do not fully understand the ending and it felt somewhat undone. Like it will come more books about Nimona, but still it was so satisfying that I do not feel the need to read more.
Either way, I'm happy that I have read it. Will probably do it again in the future after I have gain some more experience to see what my thoughts will be then. That is always interesting.