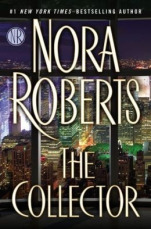 | GOODREADS | MY RATING: ♥|
Goodreads synopsis: When professional house-sitter Lila Emerson witnesses a murder/suicide from her current apartment-sitting job, life as she knows it takes a dramatic turn. Suddenly, the woman with no permanent ties finds herself almost wishing for one. . . .
Artist Ashton Archer knows his brother isn't capable of violence—against himself or others. He recruits Lila, the only eyewitness, to help him uncover what happened. Ash longs to paint her as intensely as he hungers to touch her. But their investigation draws them into a rarified circle where priceless antiques are bought, sold, gambled away, and stolen, where what you possess is who you are, and where what you desire becomes a deadly obsession. . . .

My thoughts: What a utter disappointment this book was. It is sad that I had that "total waste of time" feeling after finishing it. What the heck happened? I should have DNF it and if it wasn't for the fact that I had to spend 10 (!) hours at the emergency room, I would probably have done it to.
It is the same predictable, old, boring plot as usual, with to much details and information. It was impossible to connect with the characters and it is a long, rambling story with a lot less excitement than there should be. The characters are grey and bland with really no personality, difference or depth. There is no tension in the mystery. Nothing that makes my heart beat extra hard, the adrenaline pump through my system or giving me the feeling of "I need to know more".
There is predictable and there is predictable. Just need to be clear about that. Because if the story and plot itself is well written and exciting it doesn't matter to me that the story is predictable. It is the ride there who matters, not the destination. But if the story is boring, unconnectable or in some other ways just not catching me, the easy predictability will just make it worse.
I'm surprised to see that the book have such high score with so many bad reviews on Goodreads. I'm happy that i'm not the only one feeling this way but still sad because it's Nora Roberts. I'm suppose to like her books. I'm not suppose to force myself thru it an later on describe it as one of 2018 most painfully reads.