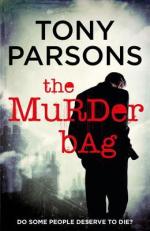 | GOODREADS | MY RATING: ♥ ♥ ♥|
Goodreads synopsis: Twenty years ago seven rich, privileged students became friends at their exclusive private school, Potter's Field. Now they have started dying in the most violent way imaginable.
Detective Max Wolfe has recently arrived in the Homicide division of London's West End Central, 27 Savile Row.
Soon he is following the bloody trail from the backstreets and bright lights of the city, to the darkest corners of the internet and all the way to the corridors of power.
As the bodies pile up, Max finds the killer's reach getting closer to everything – and everyone – he loves.
Soon he is fighting not only for justice, but for his own life …

My thoughts: Never read anything by Parsons before and I'm pleasantly surprised. I like the book, unfortunately I didn't love it. Probably because of the slightly diluted plot and the typical English settings. And I don't mean typical in a good way. This book has a somewhat tame and watered topic, which I have read over and over again before. Why do you have to have that slanted balance of power in crime thrillers, specially English crime? I'm getting tired of it and quite frankly, is the genre done? Is there nothing more to write about? I feel English crime books are a complete genre by itself since they often are the same specially with the work relationships in the police house. Still I do love English Crime.
This gritty thriller is about a rebel cop (Max Wolfe) who's only goal in his job, is to do the right thing and find out the truth. Perhaps even save a couple of lives along the way. He is following the questions and evidence no matter where it will lead and even if his bosses are against it or try to stop him. Wolfe is a great character to follow. He is a rebel yes, but he is not that typical kick ass cop you often read about. He feels more human, can get hurt as easily as anyone else, struggles with stuff and I love how real he feels. He is a single dad with a daughter and a dog. This little family is the center of the book and makes it warm and real in the chill of the crimes.
The plot was interesting and the mystery wasn't that predictable. I do want to try the next book in the series. Book two actually have a higher rating on GoodReads and the first book so I'm kind of curios.