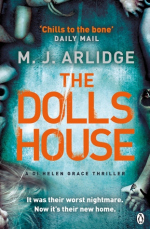 | GOODREADS | AMAZON | MY RATING: ♥ ♥ ♥ ♥ |
Goodreads synopsis: A young woman wakes up in a cold, dark cellar, with no idea how she got there or who her kidnapper is. So begins her terrible nightmare.
Nearby, the body of another young woman is discovered buried on a remote beach. But the dead girl was never reported missing – her estranged family having received regular texts from her over the years. Someone has been keeping her alive from beyond the grave.
For Detective Inspector Helen Grace it's chilling evidence that she's searching for a monster who is not just twisted but also clever and resourceful – a predator who's killed before.
And as Helen struggles to understand the killer's motivation, she begins to realize that she's in a desperate race against time .

My thoughts: I was skeptical about this book. I liked the first one in the series, but the second got pretty low rating by me. I am however happy that I choosed to read it anyway because it was really good. There is one thing I have an issue with however. And that is all the drama.
There is 5 female characters in this book who have some kind of issue with one another. There is jealousy and other stuff that just brings the story down. I hate drama and I hate office politics. Bringing this two together and it brings it all down for me and I am ashamed over the female genus because I know that this happens in the real world. However, it was still nice to get some kind of closure on the whole Grace and Harwood fiasco and I hope the drama is now over.
The story itself is classical. No big surprises and it is something you have seen or read to many times. It is still entertaining and then I also like these slow burner, English crime books that ends with a bang. Helen Grace keeps being an enigma and after three books, I can't say that I know who she is. I know she has some problems due to her childhood and that she has a strong desire to help people. But other than that, she is a complete puzzle to us readers.
One other thing I liked with this book is that the chapters are really short and it pleases my OCD. I can absolutely see myself read the fourth book in the series.