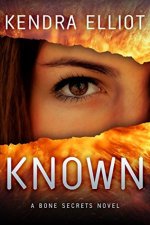 | GOODREADS | MY RATING: ♥ ♥|
Goodreads synopsis: After a brutal snowstorm in the Cascade Mountains, Chris Jacobs discovers two things he never expected to see: the charred shell of a cabin, and Gianna Trask and her sixteen-year-old daughter huddled in an SUV, having barely escaped from their burning vacation rental.
Still scarred from a childhood ordeal, Chris knows there's something sinister about the scene—it's the stench of burned flesh.
Forced to wait out the blizzard in their rescuer's retreat, medical examiner Gianna Trask wonders if her hidden past has finally caught up with her. When a body is found in the destroyed cabin's ashes and a forest ranger is brutally murdered, both Gianna and Chris must confront their secrets if they want to escape the violent threat lurking outside.
In the fifth book in the Bone Secrets series, Kendra Elliot leads readers on a dangerous, twisting journey of two lives forever changed by a fiery snowstorm in the mountains.

My thoughts: Out of the five books in this series, this one is certainly the weakest. Off course I'm happy for Chris, since he is the character who have suffered the most and certainly deserves a HEA. We met Chris for the first time in the third book "Buried" which is also my favorite in the series. Known however, I found predictable, with halfhearted twists and somewhat stupid plot. I like medical thrillers but this is nothing like that. It is more or less some bad stuff happening to good people and together with the police, they are waiting it out until the bad guy does something wrong and messes the whole thing up. Somewhat dull, gray and fleeting. No real depth. A meek try on a heavy, hard to predict, mystery.
There is no real suspense either and it is pretty boring actually. I think it is my connection to Chris that made me actually read the whole thing and in the end find it "okay" but not so much more. And the bad guy in the book was so stupid and embarrassing that I'm surprised Elliot let it go on for as long as she did in the book. There was not ONE smart decision buy either crook or author through out these 348 pages. Just saying.
This was for now the last book in the Bone secrets series and I don't know if Elliot is going to publish more. If so, I will probably read them to. The series as a whole is really good and I don't want to let this bad apple destroy a potential fantastic follow up.