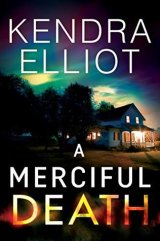 | GOODREADS | AMAZON | MY RATING: ♥ ♥ ♥ |
Goodreads synopsis: FBI special agent Mercy Kilpatrick has been waiting her whole life for disaster to strike. A prepper since childhood, Mercy grew up living off the land—and off the grid—in rural Eagle's Nest, Oregon. Until a shocking tragedy tore her family apart and forced her to leave home. Now a predator known as the cave man is targeting the survivalists in her hometown, murdering them in their homes, stealing huge numbers of weapons, and creating federal suspicion of a possible domestic terrorism event. But the crime scene details are eerily familiar to an unsolved mystery from Mercy's past.
Sent by the FBI to assist local law enforcement, Mercy returns to Eagle's Nest to face the family who shunned her while maintaining the facade of a law-abiding citizen. There, she meets police chief Truman Daly, whose uncle was the cave man's latest victim. He sees the survivalist side of her that she desperately tries to hide, but if she lets him get close enough to learn her secret, she might not survive the fallout…
My thoughts: I really liked the story. I liked that preppers had a big part of the story. I know what a prepper is but the complete meaning of it was new to me until I read Fan the flames by Katie Ruggle where the female lead character had grown up as an extreme prepper. The culture intrigued me and that is mostly why I wanted to read this book.
However I wasn't that happy about the characters. They felt kind of detached at times and some of the history never was told to you as an reader, which would have made somethings a little clearer. And I totally dont agree with the ending of the book. Tho no cliffhanger.
Overall it is an great book with some mistakes. After my experience, the first book in a series are often not that good as it could be and i´m still interested to read more about Mercy, and perhaps get some answers on stuff that you didn't get in the first book. I do not like to end a book with questions but here it do not do anything since they are minor and just my own curiosity. Another reader would probably not even have those questions when the book ends.