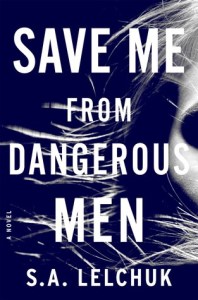 | GOODREADS | MY RATING: ♥ ♥ ♥|
Goodreads synopsis: Nikki Griffin isn't your typical private investigator. In her office above her bookstore's shelves and stacks, where she luxuriates in books and the comfort they provide, she also tracks certain men. Dangerous men. Men who have hurt the women they claim to love. And Nikki likes to teach those men a lesson, to teach them what it feels like to be hurt and helpless, so she can be sure that their victims are safe from them forever.
When a regular PI job tailing Karen, a tech company's disgruntled employee who might be selling secrets, turns ugly and Karen's life is threatened, Nikki has to break cover and intervene. Karen tells Nikki that there are people after her. Dangerous men. She says she'll tell Nikki what's really going on. But then something goes wrong, and suddenly Nikki is no longer just solving a case—she's trying hard to stay alive.

My thoughts:
If Jessica Jones and Jack Reacher had a baby, you get Nikki Griffin. A kickass, female PI character who stand up for the weak, and helps out in a way that everyone can understand. And to top it off, she is a book lover with her own bookstore. How cool is that? Just that description was enough for me to decide that this is the book of 2019 releases I just have to read.
Now when done I'm quite conflicted. On one hand I absolutely love Nikki and feel that this is a character I want to read more about. I also want to meet those side characters that we encounter now and then throughout the book. On the other hand I felt myself somewhat detached to the story itself. It is hard to explain but I was there but never quite there if you understand. It's not a bad story because of it, it just didn't capture or connect with me on a level that makes me invested. Maybe because I felt the plot line was somewhat destructed and not completed in a degree I feel it could have been. And the ending was a little too farfetched when you take some of the characters and their actions in account to the end result.
I do however LOVE the "romantic" aspect of the book. There is almost no romance per say, but there is a character Nikki meets and the chemistry and several situations and monologues that is happenings which was just wonderful.
It looks like there is coming more books about Nikki and if so, I'm certainly is going to read them.