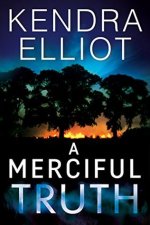 | GOODREADS | MY RATING: ♥ ♥|
Goodreads synopsis: Raised by a family of survivalists, FBI agent Mercy Kilpatrick can take on any challenge—even the hostile reception to her homecoming. But she's not the only one causing chaos in the rural community of Eagle's Nest, Oregon. At first believed to be teenage pranks, a series of fires takes a deadly turn with the murder of two sheriff's deputies. Now, along with Police Chief Truman Daly, Mercy is on the hunt for an arsonist turned killer.
Still shunned by her family and members of the community, Mercy must keep her ear close to the ground to pick up any leads. And it's not long before she hears rumors of the area's growing antigovernment militia movement. If the arsonist is among their ranks, Mercy is determined to smoke the culprit out. But when her investigation uncovers a shocking secret, will this hunt for a madman turn into her own trial by fire?

My thoughts: I found Kendra Elliot through recommendations on GoodReads and her Bone Secret series (which I only have one book left to read in) is the first I read and I really liked her books. Some was better than other and I do find Elliot to be somewhat of an unstable writer but I still felt sure on starting one of her other series. You never know what you will get, you know. Well, after this second book in the Mercy Kilpatrick series, I will probably not continue it.
I like the story line and the (for me) mostly unknown topic. I don't know a lot of preppers, government haters and people trying to survive on what nature has to give. Now I can't say that the information in the book is 100% true but I do hope that Elliot is that kind of author who research or has personal knowledge to putt in her book.
I started the second book with the thought that I wanted to know what will happen Mercy next and how the relationship with Truman turned out. Quickly discovered that there is A LOT from the first book I have forgotten. And that is certainly not good in any way. I gave the first book three stars so I did like it, but not apparently enough to remember it. So that was kind of an bummer. Elliot do explain some of the stuff that happened in the first book so it did refresh my memory. But the most vital information (can't say due to spoiler) they never talked about in the book. And I didn't quite remembered the details from the first book. So I had to look it up. Not a good thing.
So to sum it up, the book was okay. It's easy to read and it was somewhat exciting. But the plot felt forced and I was not really surprised when most of it came into the light. There was some tries to cast fake blame on other characters but I did not fell for it and my suspicions on how it all hanged together from the start. Even though the reasons was not that clear.
I seriously need to stop wasting time on series where I didn't fell for the first book. More often than not, I do not like it and end up not finish the series.