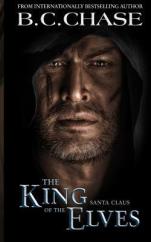 | GOODREADS | MY RATING: ♥|
Goodreads synopsis: Meet Santa Claus, the epic hero. From internationally bestselling author B.C.CHASE comes an imaginatively fantastical take on the man in red featuring a brilliant host of classic and original fantasy creatures including dwarves, dragons, goblins, and of course elves. This not-to-be-missed allegorical tale of courage, determination, and selfless love has been critically acclaimed as an instant classic destined to be passed down for generations to come. Also available as an abridged children's edition.

My thoughts: What a bad book. I'm so sorry Chase but this was not good in my opinion. The writing is terrible and it is really hard to read. Keep in mind that I read books with more than 1000 pages as if it was a magazine and English is not even my first language. I should not have this kind of problems. I'm not the only one who had troubles either. This was elected to be the December book in our book club. All of us (sure we are not that many) had trouble. I'm not even sure the others even finished it because they as me, struggled so much. But since it was a book club book and I also run this review blog, I wanted to finish it. I so wanted to like it and gave it a chance after chance. There was nothing fun about it and now I regret that I didn't DNF it early on. Because god damn this was boring. And I payed 8 dollars for this.
The idea of an darker Santa story was intriguing and maybe it would have been a lot more fun to read if not for the writing. For me it felt like Chase tried to make it more than it was with a complicated way of writing. This is not Kafka, Chaucer, Mellville or Tolkien we are talking about. Books should not be hard. They should be enjoyable and fun to read. Don't destroy it with a veil of sophisticated texts that clearly just isn't you. I did not feel the author at all. There was no soul and for me, in my opinion, this one is just not worth the time.