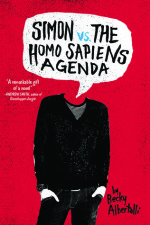 | GOODREADS | MY RATING: ♥ ♥ ♥|
Goodreads synopsis: Sixteen-year-old and not-so-openly gay Simon Spier prefers to save his drama for the school musical. But when an email falls into the wrong hands, his secret is at risk of being thrust into the spotlight. Now Simon is actually being blackmailed: if he doesn't play wingman for class clown Martin, his sexual identity will become everyone's business. Worse, the privacy of Blue, the pen name of the boy he's been emailing, will be compromised.
With some messy dynamics emerging in his once tight-knit group of friends, and his email correspondence with Blue growing more flirtatious every day, Simon's junior year has suddenly gotten all kinds of complicated. Now, change-averse Simon has to find a way to step out of his comfort zone before he's pushed out—without alienating his friends, compromising himself, or fumbling a shot at happiness with the most confusing, adorable guy he's never met.

My thoughts: I have been avoiding these cutesy, young adult romances as the vampire avoids sunlight. Not only because they often are to fluffy and angst filled for my taste. But also because they feel to unrealistic and predictable. It is like these teenage movies where you have 75 minutes of "funny" cringe worthy scenes and you still KNOW that the prins and princess will get each other in the end. I can see the charm, I do, and I do watch them sometimes when I don't have the energy to use my head. At times I only want to be filled with something shallow, where I can remember or forget. Depending on the mood. And I do wish I could enjoy them, as much as so many others do. I feel I miss out a lot but the most of these YA I have tried, I have not enjoyed no matter how much I have tried.
But I did enjoy Simon vs. the Homo Sapiens agenda. It is not specially fun, it has its moments, and it brings up the storm of emotions in a young boys life who knows he is gay, but has yet told anyone. Except Blue. The mysterious, email friend Simon has but don't know who it is. Blue is also gay and they talk a lot about how it is to still "be in the closet" and the big "coming out" thing. I loved that I could not predict who Blue was until he was revealed and it was a total surprise.
What I liked the most with the book was the day to day life. Simon is a great character. He is deeply developed, funny and sarcastic. He is grounded in the story and who is easy to relate to. I had some trouble the first 50+ pages since there is a lot of characters and it was hard to keep track of who talked when or did what. But as soon as I got used to the way it was written it was much easier and the book was a fast past read.
It is a great book but still a little to light and fluffy for my taste. But then again, YA Romance is not my favorite genre. I did like it and feel that this is a great book for all ages. Now in 2018 the movie on the book, Love Simon, have had a release and of course I want to see it. Haha. I love movies made on books. Usually not as great, "The Book was better", you know, but still want to see them.