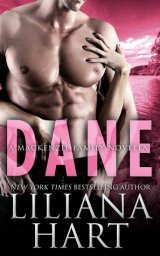 | GOODREADS | AMAZON | My rating: ♥ ♥ ♥ ♥ |
Goodreads synopsis: This is book #1 of the MacKenzie Brothers Quartet!
Bad boy, Dane MacKenzie, is coming home to Surrender, Montana. It's been ten years since he left the woman he loved behind to make a name for himself, and now he's bound and determined to claim her once and for all.
But Charlotte Munroe has no desire to welcome home the Prodigal Son with a fatted calf. The bitterness of Dane's betrayal runs deep, and she has no plans of letting him back into her life.
Especially since she's trying to protect the son Dane isn't aware exists from heartbreak, since she's sure he's only going to walk out of their lives again.
My thoughts: A nice story. Perfect book for those terrible book hangovers you can get sometimes after a book. And other times when you read a really long or heavy book, this is a great book to catch a quick break in the middle of the book with. I really liked it. Unfortunately it was also to short for me. Everything happens a little to fast and i would have loved to have just a couple of pages more. But hey, thats me.
However i still recommends it to everyone i know. And on top of that, don´t miss the great deal at amazon (as of august 2017) and get the first five books for just $1.24.