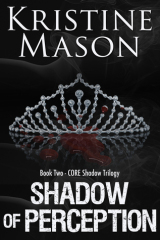 | GOODREADS | AMAZON | My rating: ♥ |
Goodreads synopsis: What happens when negligent plastic surgeons get a taste of their own medicine…?
Chicago investigative reporter, Eden Risk, receives an unmarked envelope containing a postcard ordering her to watch the enclosed DVD…or someone else dies. No police. After Eden watches the DVD, a gruesome, horrifying surgery, she turns to the private criminal investigation agency, CORE, for help. Only she hadn't expected that help to come with a catch. Her former lover, Hudson Patterson, has been assigned to the case.
Hudson would rather have another CORE agent handle the investigation. Two years ago, he'd screwed things up with Eden…bad. And as more DVDs arrive, Eden and Hudson find themselves not only knee-deep in a twisted investigation, but forced to deal with their past, and the love they'd tried to deny.
My thoughts: This is the second book in Masons CORE Shadow Trilogy. I did like the first book and gave it three stars, but I really liked the first book from her other CORE series (above the law). But this one I did not like at all. I didn't like that the suspense disappeared to fast since Mason gave to much explanations to early. So the murder and his mystery was not that exciting. And I did not like Eden at all and some of the drama was totally her fault and then try to make it Hudsons fault. That kind of relation and drama is really nothing for me.
And its to bad. Because i´m starting to see and a pattern and Mason has an sick imagination. An imagination totally in my taste. Something new and a little on the border of insanity that is really refreshing for someone like me who read a lot of thriller, suspense, mystery and books with romance.
So in total, this was not the book for me, but I still want to read more and the third book is about an character named Rachel and that is really exciting. 😀