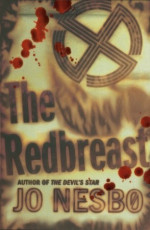 | GOODREADS | AMAZON | MY RATING: ♥ ♥ ♥ ♥ ♥ |
Goodreads synopsis: 1944: Daniel, a soldier, legendary among the Norwegians fighting the advance of Bolshevism on the Russian front, is killed. Two years later, a wounded soldier wakes up in a Vienna hospital. He becomes involved with a young nurse, the consequences of which will ripple forward to the turn of the next century.
1999: Harry Hole, alone again after having caused an embarrassment in the line of duty, has been promoted to inspector and is lumbered with surveillance duties. He is assigned the task of monitoring neo-Nazi activities; fairly mundane until a report of a rare and unusual gun being fired sparks his interest. Ellen Gjelten, his partner, makes a startling discovery. Then a former soldier is found with his throat cut. In a quest that takes him to South Africa and Vienna, Harry finds himself perpetually one step behind the killer. He will be both winner and loser by the novel's nail-biting conclusion.

My thoughts: I read the first two books in the series about Harry Hole in 2013 and 2014. They where not my favorites and I gave them both a two star rating. They did just not do it for me for several reasons. If it was not for that I bought the three first book at the same time and already had the book in my shelf, AND I have this 30 Books Before 30 list, I would probably not have read the third book. But now I'm so happy that I did. Because this was great. A five star rating, terrific, nail biting and heart wrenching great.
The story is awesome with the time jumps back to second world war and some of the people there. And Jo have done great work to make the history and past woven together with the present. You get a lot of clues trough out the book and, maybe I'm just stupid. but I could not for my life figure it all out hand how it all hanged together. I had my theories. In the end I did get a clear picture and felt really satisfied by that.
However, there is one "teeny tiny" event that did not get its rightful closure and that kind of stuff usually pisses me off. But, there is several more books in the series and I hope that in the future we will get full closure on it so I'm okay. And I as a reader do know the truth.