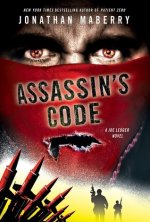 | GOODREADS | AMAZON | MY RATING: ♥ ♥ ♥ ♥|
Goodreads synopsis: In ASSASSIN'S CODE, the fourth book in New York Timesbestselling author Jonathan Maberry's Joe Ledger series, Joe Ledger and the DMS go on a relentless chase to stop an ancient order of killers from plunging the entire world into Holy War.
When Joe Ledger and Echo Team rescue a group of American college kids held hostage in Iran,the Iranian government then asks them to help find six nuclear bombs planted in the Mideast oil fields. These stolen WMDs will lead Joe and Echo Team into hidden vaults of forbidden knowledge, mass-murder, betrayal, and a brotherhood of genetically-engineered killers with a thirst for blood.
Accompanied by the beautiful assassin called Violin, Joe follows a series of clues to find the Book of Shadows, which contains a horrifying truth that threatens to shatter his entire worldview.
They say the truth will set you free…
Not this time.
The secrets of the Assassin's Code will set the world ablaze.

My thoughts: Dear Mr Maberry.
You broke me! You broke me to the moon and back and then you put me together with scotch tape and hot glue. Blood seeping trough the wounds, glistening in the night as I lay and think about Joe Ledger and his life. And then I read the last sentence in this book and it is all better again. Almost! So please, do not fuck it up. (Yeah I know you already have written like 6 more books after this one but I can still Wish because that guy need some happiness.)
If I ever was one of those people who wrote letters to musicians, actors, authors, serial killers or what not, this is probably how I would start a letter to Jonathan Maberry. After every book about Joe Ledger, I have felt a little broken, a little hurt but at the same time had this good, warm, fuzzy feeling in my chest. Maberry takes his readers on an exquisite ride through out the horrors of real life mix with the horror of the historical, fantasy, conspiracy tales and mad science. As a child I loved books like Frankenstein by Mary Wollstonecraft Shelley, Dracula by Bram Stoker and every other "supernatural" book my little hands could get. This is just an modern view of old tales in a more exciting form. There to entertain, not to teach and with twist you would not be able to foresee.
I have not written an official review on any of Maberrys books before but they pretty much go the same. The story is phenomenal. The imagination and execution of the story is one of the greatest. This is not generally a genre I read much in and even less if there is not more of an Romantic suspense/horror type of book. Mostly because I often feel a get bored. Long descriptions, not enough dialog and so on is not always the best. But I do not get bored by this books. It is terrifying, exciting and lovable. And you as an reader are there with the characters. There have not yet been a full 5 star rated book (but The King of Plagues was pretty close) and that is because every time I feel i'm missing something. But I cant figure out what.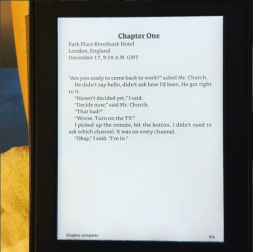 Jonathan Maberry is also a king on writhing short chapters with a punch and a total effect to wake your curiosity. This picture is the first chapter from the book "The King of Plagues" and I wrote this on my Instagram (this was before I created The Book Chick).

And it is perfect for those of you who read by chapters and goes like "Just one more chapter" late in the night. 😉