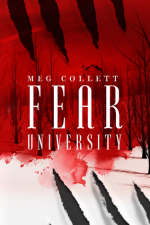 | GOODREADS | AMAZON | MY RATING: ♥ ♥ ♥ ♥|
Goodreads synopsis: I've always known I was a monster, and I don't mean some teenage vampire shit either.
My mother abandoned me when I was ten years old because I have a freakish mutant disease that makes me incapable of feeling pain. I bounced from one foster family to another because too many people like to test my medical condition in a game of "Try To Make Ollie Scream." At sixteen, I killed a man for taking that game too far.
Two years later, I'm still on the run in Kodiak, Alaska. Here, I'm the most dangerous person around, until I come face to face with a creature that should only exist in folklore. The monster is an aswang, and I, with my medical anomaly, am uniquely qualified to hunt the beast that haunts the night. At least, that's what the two scarred, mostly crazy 'swang hunters tell me when they kidnap me and take me to Fear University, a school where young students learn to hunt and kill aswangs.
I arrive at the university a prisoner, but I stay because I finally find my freedom.
For once in my life, I belong. I'm needed. I make a home for myself inside the university masquerading as an old Alaskan prison. Something close to happiness warms my icy heart when I'm with my scarred, still mostly crazy tutor, Luke Aultstriver. For a murdering runaway like me, Fear University is a haven where I can put my skills to good use hunting monsters in the night.
But when certain truths come to light and even more lies are exposed, I fear that I, Ollie Andrews, am the worst kind of monster of all. And, maybe, they should be hunting me.

My thoughts: First off, before I start to talk about the book itself. I don't know if it is the authors fault or someone else but either way. Do not, I repeat, PLEASE DO NOT end the e-book under 90%. It makes you as an reader feel cheated, and that is not a good feeling to have your reader sit with at the end. Even more important so if the book ends on a cliffhanger. It happened with this book. Ended on a cliffhanger when I thought I had at least 10% left of the book to read. Not a good feeling at all. An quite frankly, it makes me a little pissed off and not wanting to read the second book. I will of course someday read it, because I need to know how it will end, but it will probably take awhile.
So what about the book itself? It is really good. Fresh and quite imaginative. Asuwangs is from an old Filipino folklore and I have seen and heard a lot about it from the movie world. But really not read anything. So I did not know exactly what to expect. But the story is exciting and filled with lies, mystery's, really good characters and suspense. I like the dynamic and I like what the book is starting to build up. It's twisted and you think you know how it all is put together but in the end that is just wrong. I do not, however, like Ollie that much. Well I like her fine, but for a girl who has been through everything she has been through, she is quite naive and really childish sometimes. And it does not get any better. I do hope she grow up some in the next book because if not, I don't know if I want to continue reading.
I do not know the history with Asuwangs but have read a little about it now after the book and if I get it right, Collett (Which is not of Filipino descent) has done a great job with mixing the history with her line of the story and make it believable.
So as soon I have forgotten the "betrayal" I will read the second book and I really hope it is as good as the first one.
How do you feel about books ending before you think it will and cliffhangers?