14 February, the day of love. Cupid, hearts, roses and chocolate. A little too much for my personally taste. A little to shallow and forced. Love should not be forced like that. It should come in the small, everyday life. I have been in a steady relationship for 10 years and we have never really "celebrated" valentine's day so this is no "I'm single and hate Valentine's day" rant. And since I'm not going to celebrate it this year either I thought, maybe I should. But instead of celebrating cheesy love, why not celebrate books? Romantic books. Because even if I don't celebrate the day for love, I'm a total romantic buff. And of course, I read romantic books.
I have compiled a list with 10 of my favorite romantic books from different genres. We have some dark, some happy, some suspense and some contemporary. A little bit of everything and it is all romantic. Look and see what you think and please leave a comment if you wish before you go.
Happy Valentine's day.
❤ XOXO ❤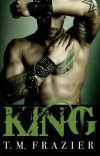 King by T.M Frazier. This is not a book for the faint hearted or easily offended people. Here you get some heavy and hot sex, lies and destructive behavior but still a great story. I do however have to warn you that this is not a standalone series and it will end on a cliffhanger. But it is totally worth it.


Kidnapped by Suzanne Ferrell. Here you have a strong, opinionated, headstrong and lovable nurse who gets to experience her worst night of all nights. We have a strong, alpha male who work in law enforcement but risks it all to save this young, sweet little boy. Get yourself ready for the ride of your life and a love story who sparks from the darkest ground and lights up the sky. This is the first book in the stand-alone series about the Edgar's family.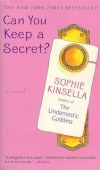 Can you keep a secret? by Sophie Kinsella. Imagine yourself in a position where you reveal your darkest secrets to a stranger and later finds out that this stranger can both save your ass or ruin your life for all eternity. What would you do? Well I would probably do as Emma does in this book. And it is hilarious.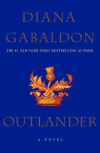 Outlander by Diana Gabaldon. If you haven't read it, at least you should give it a try. You may not like it, but then you don't have to hear "what, you haven't read it?! You must read it! It is just that good!" Yeah the book Is THAT good and I totally love it and I wish everyone would just read it so the mankind can move on to other books to rave about.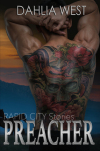 Preacher by Dahlia West. The book for you with an open mind. This one took me by total surprise and became one of my favorite books of all times. Yeah that is how good this is. And the female main character is everything I want to be and the story so catching that it is hard to put it down. And there is some heavy, sexy romance in it to. 😉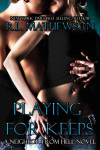 Playing for keeps by R.L Mathewson. I rave about this stand-alone series to everyone who would listen. I feel that this book does not get the recognition that it deserves and it is one of my favorites. Too bad the cover is so ugly. But do not judge the book by its cover and I'm so glad that I didn't do just that because I love this and the whole series is just so heartwarming and wonderful.

Wait for it by Mariana Zapata. Did not know what to expect but I certainly did not see myself read this book, with its 670 pages, in one go with only bathroom and some small food breaks. I love when a book gets me that wrapped up, but it is total killer on my body and head. Still worth it and you still need to read this if you not already done it.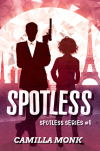 Spotless by Camilla Monk. Friend of mine recommended this series. Right now, I only have read this but it is so good and funny that the whole world need to know about it. This is also one of those few books I feel would be great as a comedy movie with the right actors.


Matilda's last waltz by Tamara McKinley. An old-time, romantic book with family secrets, lies and love in the Australian farmland. The book that started my love for Australia and fire for historical suspense. Great read I need to read again soon someday.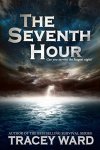 The seventh hour by Tracey Ward. I'm not a big fan of the Young Adult genre so when I read one of these full score, hit me on the head and let me die, romantic books, AND no one is talking about it, it just makes me sad. This book is so good, so great and worth every penny. And it is not one of those mushy and meek type of YA romantic books either. It is just perfect.