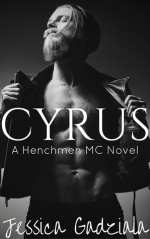 | GOODREADS | AMAZON | MY RATING: ♥ ♥ ♥ ♥|
Goodreads synopsis:
Cyrus
Family. Brotherhood. Music. Women. That was pretty much my life. And it was one I was happy with too. Until I came across her- the one woman I knew I had no right to put my hands on, the woman who I still felt such a connection with that, even though I knew I had to keep my hands – and other body parts – to myself, I wanted to be in her life. So I became her friend. Except, this sweet, shy, bookworm was making being honorable a hell of a lot harder than I expected.
Reese
Family. Books. To be perfectly honest, that was pretty much all my life was about. And I was happy with that. I lived a thousand lives. I saw and felt things in stories I never could have otherwise. Besides, real life was never as good as books. Until I came across him. He was leading man material if I ever saw it. You know, just not for me. He made that perfectly clear. We were going to be friends. Friends. That was it. Except, maybe that simply wasn't enough…

My thoughts: I have been looking forward to this book since I read about Reese in Kenzi's book 14 Weeks. Mostly because she was a little mysterious, social awkward and a total book nerd. Who can not relate to that if not me? However, I must say I'm a little disappointed. I still gave this book a four-star rating but that is mostly because I love the series and the Navesink Bank universe and the characters Cyrus and Reese is to die for. Their story however is not as good. Pretty boring actually.
It is sweet and a little funny yeah, but not quite my cup of tea. I need more excitement and suspense. Or more humor or more feelings or more depth. Just more! This was kind of bland and it all went a little too easy and there where to big jumps in time. Suddenly it had gone 5 weeks. When they were not talking, I would have loved to read about them see each other or an awkward meeting or a fight. Just something with emotions. There where talk about some real "on his knees, begging for forgiveness" work and kissing her feet to make up for stuff that happened, but there was just some lame show of affection that made me a little sad. It was promising some heavy standoff between some characters but also that never happened. And the story about Kenzis reaction to Cyrus was completely ignored and I would have loved to read Reeses reaction when finding out that Cyrus "destroyed" a book.
Just many small things building up to a big thing. A little more time and more depth would have made this book one of my favorites I think. But even the high score, it is one of my least favorites of all the (30?) books I read by Gadziala. Story wise. The characters are on top of my favorite list though.