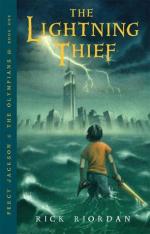 | GOODREADS | MY RATING: ♥ ♥ ♥|
Goodreads synopsis: Percy Jackson is a good kid, but he can't seem to focus on his schoolwork or control his temper. And lately, being away at boarding school is only getting worse—Percy could have sworn his pre-algebra teacher turned into a monster and tried to kill him. When Percy's mom finds out, she knows it's time that he knew the truth about where he came from, and that he go to the one place he'll be safe. She sends Percy to Camp Half Blood, a summer camp for demigods (on Long Island), where he learns that the father he never knew is Poseidon, God of the Sea. Soon a mystery unfolds and together with his friends—one a satyr and the other the demigod daughter of Athena—Percy sets out on a quest across the United States to reach the gates of the Underworld (located in a recording studio in Hollywood) and prevent a catastrophic war between the gods.

My thoughts: Of course I have seen the movie and more or less already knew what to expect. I do not often like to read (or in this case listen) to books after I seen the movie, but I have seen reviews that the books is so, so much better than the movies and felt like I was missing out on something. However I did not find the book as great as all those reviewers raved about. But it was a good book.
I did somewhat enjoy it. It started of really good and the ending tied itself together real nicely. A little slow sometimes but it was okay. I would probably have liked it more if I read it before the movie though. There are some things changed between the movie and the book. I do not know why really because I can't see a reason to why they could not do it as in the book. It was like the same but different. And I think some stuff in the movie had made more sense if they did it more like in the book. But that is just my opinion.
There are also a lot of stuff in the book that is not in the movie, which surprised me. This whole "half god" thing would have had a bigger impact with it. But I guess they had their reasons. The book, however is educational in a fun way. Greek mythology was a big topic when I was in school and after what I can remember, the history facts are correct in the book. I love books for younger readers that also is educational. And I think if this came out when I was a kid, I would probably have loved it. I was really interested in Greek mythology and history at a time.
I will probably listen to more of the books. They are easy and relaxing and perfect to listen to when I'm at the gym working out. But I will probably not love the series as so many others seems to do.