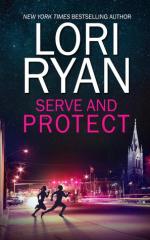 | GOODREADS | MY RATING: ♥ ♥ ♥ |
Goodreads synopsis: Ashley Walker was one of the lucky ones. Adopted when she was fourteen years old by a family willing to love her as their own, they stuck beside her through all the hell she put them through.
A kind of hell that would haunt her forever. But now she's put her past behind her—or so she thought. Garret Hensley never imagined he'd be chasing the killer of the woman who'd set him on the path of law enforcement.
She'd given him reason to believe in himself, to believe he could make a difference. And he suspected her giving heart was the reason her life had been cut so short. When the evidence leads him to Ashley Walker, he knows he has to ignore the feelings she stirs in him, because getting her to reveal the truth of her past is the key to finding a killer.

My thoughts: I feel like Ryan's style of writing is very up and down. There is really no stability you can trust and lean on. Which is too bad because the plots are usually great and exciting. The first book in this standalone series I gave two stars. I don't have a public review and on top of my mind I can't remember exactly what my problem with it was. But I think it was the writing and the way the story was built. The second book I gave four stars. No public review here either, but this one I do remember. The plot was great, exciting and the characters fantastic. The book felt more alive and I really liked it. Made me think Ryan maybe was an author for me and after this one I felt that I wanted to continue the series.
This third one I give a three star rating. It started out great but it kind of flatted out in the middle and the end was just predictable and cliché. The writing got worse and it lost me and my attention. The book in its entirety is good. I liked it. I liked that it was somewhat darker and that the love/sex not was the big focus here. Not a WOW book but it is not as bad to give reason for a lower rating either.
I don't think Ryan is an author for me. It doesn't mean necessary that she is a bad writer. She just doesn't do it for me and my standards. And I'm quite happy that this one was the last one in the series. Well there is one 0,5 book but I don't like to read half books and often ignores them. So I do not feel an compelling to continue reading.
Don't know if I will read anything more buy Ryan. Time will tell.