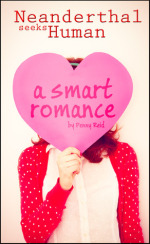 | GOODREADS | MY RATING: ♥ ♥ ♥|
Goodreads synopsis: There are three things you need to know about Janie Morris: 1) She is incapable of engaging in a conversation without volunteering TMTI (Too Much Trivial Information), especially when she is unnerved, 2) No one unnerves her more than Quinn Sullivan, and 3) She doesn't know how to knit.
After losing her boyfriend, apartment, and job in the same day, Janie Morris can't help wondering what new torment fate has in store. To her utter mortification, Quinn Sullivan- aka Sir McHotpants- witnesses it all then keeps turning up like a pair of shoes you lust after but can't afford. The last thing she expects is for Quinn- the focus of her slightly, albeit harmless, stalkerish tendencies- to make her an offer she can't refuse.

My thoughts: Sometime I wish that GoodReads had the function to choose half stars when it comes to rating. Because this is one of those books that are more a 4 star in rating than a 2 but did not quite reach all the way. So more like 3,5. It is a good book, I liked it, but the 300 + pages of self esteem rant totally destroyed it for me.
Janie is a great character. She is a little naive, stuck in her own head and do not have the best ways to handle feelings. She is witty, a lot insecure and a lot more "girl" than what you first would think. And by that I mean, that constant rant about how "big" she is, tall, big feet, big hands, big ass, big hair and so on. Everything is big with her. She is according to herself not beautiful, and definitely not in a league for a good looking man like Quinn. And when she is done ranting about her body, she goes on to her mind and personality. She is freaky, she talks to much, she can't flirt, she know too much uninteresting trivia, she is uncontrollably gabby, and on and on and on. And when she is done with that, she starts to rant about events, what she did that particular event and what the persons there did, reacted and so on. I do understand low self esteem. Been there, done that and at some ways still are fighting with it. Everybody does! But there is a limit of how big part of a book it should take. I'm not a big fan of mental insecurity and angst. Some can be great. Too much I just feel I want to punch the character in question and say "there is more to life than this". It should not take over. And here it takes it all.
If we scaled it back like 50% but kept the rest of the story, I would probable be a five star, freaking loved the book, book. So that's too bad. Reid did however do a great job with not including Quinn in this rant. He did not confirm or deny her verbal rants. (The most of them was mental though). I loved that he didn't try to change her toughs through words, but by action. And he kept asking her, pushing her out of her shell and genuinely was intrigued by her mind and personality. So the rants did ease up a bit towards the end. It is a great love story where there is more than a female with hot sexy body and a alpha caveman, with psychotic tendency. Besides, I did learn a lot of facts since Janie is a trivia nut and talk about a lot I didn't know but now do.
Great story. Funny. Loved the way it started. The whole situation with family and friends was funny and awesome. Was some angst, but not much and it was quickly over. Loved that there was several bad situations but they had not much to do with each other. There is no cliff-hanger, nicely tided together in the end! Can be a great series to follow. Not every girl in this series is like Janie I hope. One is enough.