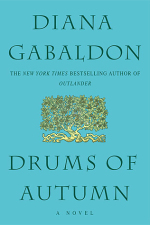 | GOODREADS | MY RATING: ♥ ♥ ♥ ♥ ♥ |
Goodreads synopsis: It began at an ancient Scottish stone circle. There, a doorway, open to a select few, leads into the past—or the grave. Dr. Claire Randall survived the extraordinary passage, not once but twice.
Her first trip swept her into the arms of Jamie Fraser, an eighteenth-century Scot whose love for her became a legend—a tale of tragic passion that ended with her return to the present to bear his child. Her second journey, two decades later, brought them together again in the American colonies. But Claire had left someone behind in the twentieth century—their daughter, Brianna….
Now Brianna has made a disturbing discovery that sends her to the circle of stones and a terrifying leap into the unknown. In search of her mother and the father she has never met, she is risking her own future to try to change history … and to save their lives. But as Brianna plunges into an uncharted wilderness, a heartbreaking encounter may strand her forever in the past … or root her in the place she should be, where her heart and soul belong….

My thoughts:
HAPPY ENDINGS?
There are no happy endings.
Endings are the saddest part.
So just give me a happy middle
and a very happy start.
-Unknown
I needed to take some time to think over the book before writhing this review. It is a lot of feelings floating around and it was a little hard to get it sorted out.
I am one of those few who have not yet seen the tv series. I wish to get further into the book series before starting to watch it. Right now I'm not even sure I will ever see it. Every time after ending one of these books, I feel mentally exhausted. My heart hurt and even though the story is so great and I do not wish that I ever started it, I feel so broken down for a while after that it is hard to start something else. I almost feel a little depressed.
I guess it is a great ability as an author to really effect your readers as this series affects me. That her written word can insinuate oneself so far in my mind and body is unbelievable. And rare. Even though I often feel so bad after her books, I also feel so good. And I still want to read more. Just need a break or two before I start the next one.
WARNING! This review contains spoilers to book one, two and three. No spoilers on this fourth book however so you are safe. You have to have read the three books in order and if you don't have read them yet, I do recommend you do NOT read further. You have been warned. 🙂
So in this book Claire has found Jamie and is in America where we left of in the third book. They are trying to put some roots down among mountain, miles of forest, fields and Indians. If not Indians are trying to kill them, the white man is or if not, the nature is doing its best. It is a hard life but they have finally found peace. After years and years of misery, surviving and loneliness, they are finally at a great place. Claire left Brianna behind in the year 1969 in the third book, to live her life in her own time. Brianna however discover something that takes her back in time to find her mother and father. In 1969 she got to know Roger even better and when he discovers she is gone, he follows her.
After the third book (which so far is my least favorite) I was wondering if the series was worth to continue. It was still good but I was just not sure if it was good enough. Now i'm so glad that I choosed to continue. Because this fourth book is so, so good. It is up in the same favorite spot as the first book.
I love that in this book you get to follow both Claire and Jamie and Brianna and Roger. I love to see peace and love at one end and the relationship between Brianna and Roger at the other. It is a great story, hard sometimes and there is a couple of horrific events happening that made my heart race and I just could not stop. I needed to know how it would end. It totally surprised me but in a good way. A little unsatisfying however. I mean have you spent 800 pages building it up, you could spend another couple pages to end it satisfyingly. Some parts felt a little forced but overall I'm happy.
I will continue the series, but as I told you, I need some time. 😉