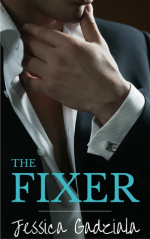 | GOODREADS | MY RATING: ♥ ♥ ♥ ♥ |
Goodreads synopsis: AVEN- There are a few things I don't believe in. Like santa. An honest politician. And gut instincts. That was, of course, until I woke up with one. And I knew. This was the day I was going to die. The cops, thus far, have proven useless and uninterested in my issues. When you couldn't get help from legal channels, what other choice did you have but to look elsewhere? That was how I came across Quinton Baird. A "fixer." Whatever the hell that was. All I knew was, I had a problem that needed fixing. Hopefully, before it killed me.
QUIN- There were a few things I could put my faith to rest in. My team. People f*cking up, and needing my help. And my gut. So when my receptionist informed me that the woman in a case I decided wasn't my kind of job was having a 'gut feeling' about being in desperate need of help, yeah, I dragged my a** across town to check things out.
Not only did I not bank on the fact that she was in trouble beyond what I could have anticipated, but she was not what I was expecting either. Beautiful, resilient, and one hell of a distraction I didn't need. As the pieces of her case start falling together, I was left wondering if maybe this new, unfamiliar sensation in my gut was telling me that Aven was much more than just another name on a case file…

My thoughts: What a cute story. Warm and fuzzy with a little suspense and angst. I felt I needed a break from the big chunk of book I currently reading and this was exactly what I needed. It is a nice story with a lot of nice characters in a new branch of the Navesink Bank universe. I pretty much knows what to expect from Gadziala so it always feels safe to read her books. They are not that long, I can easily read her books in one day, and I get pretty much everything I seek.
For you who are new to my blog, Jessica Gadziala is one of my favorite authors. She writes several series that intervene with each other throughout this fictive city, called Navesink Bank. Each series is about a different branch in the city. For an example, we got the MC club, the government hating military group, the hackers, the investigator, the loan sharks and now the fixers. This is the first book in her new series "The professionals", who fix things. We meet Quin, who is the owner of this establishment of men and women. Then we meet Aven who are in trouble. No trouble of her own making but trouble still the same. She have tried the legal way to solve it but receives no help from the police and when the situation takes a turn for the worse, she turns to Quins team for help. With no money, no friends and no family her situation feels hopeless but Aven refuses to give up and does everything she can, to survive.
It is a really a nice story with a lot of new characters in the Navesink Bank universe. The side characters in this book, plays a big part, which is unusual for Gadziala. Normally the side characters are there and around but never so much involved like in this book and I really like it. That gives me some time to tie some feelings with them and now I can hardly wait to get my hands on their own books. But only Gunners book is written so far, so right not that is not as easy. Anyhow, good story, great characters and in the same Gadziala spirit as always. The only thing I didn't like with the book is that I feel that Avens problem got solved a little too easy and quick. It went a little too fast and the suspense had no real time to build until it was gone and done. Which gave me an anticlimactic feeling. I would have wanted a little more.