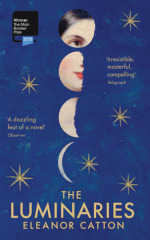 | GOODREADS | MY RATING: ♥ ♥ ♥ |
Goodreads synopsis: It is 1866, and young Walter Moody has come to make his fortune upon the New Zealand goldfields. On the stormy night of his arrival, he stumbles across a tense gathering of twelve local men who have met in secret to discuss a series of unexplained events: A wealthy man has vanished, a prostitute has tried to end her life, and an enormous fortune has been discovered in the home of a luckless drunk. Moody is soon drawn into the mystery: a network of fates and fortunes that is as complex and exquisitely ornate as the night sky. Richly evoking a mid-nineteenth-century world of shipping, banking, and gold rush boom and bust, The Luminaries is a brilliantly constructed, fiendishly clever ghost story and a gripping page-turner.

My thoughts: If you are looking for a fast paced book with an easy mystery and exciting suspense, this is not the book for you. But if you are looking for a slow burn, with a complex mystery, a lot of characters and fates, this is a choice for you. It is slow, but still in a good slow kind of way. There is a lot of characters to keep track on but Catton have written it really well so that it is not that confusing when you get into it. There is a lot of information and counter information so it can be hard at some points to remember who of the characters know who and what. Who did what, when, where and who knew about it? I would not say that the book is hard to understand, your mind just needs to be a 100% awake so you won't miss some details. This is a lot of book and many pages but it is affordable and don't let the many pages scare you off.
My biggest problem with it, however, is still that it is so slow, even tough it is a good kind of slow, and it didn't really grab me. I have told you before that I have no patience when it comes to slow books. And I didn't really feel anything for the book. It was the reason that my goal was to read this before I turn 30, that got me through it. And I feel like I missed something big. Maybe it was about the stars angle. Because all that did not quite make sense to me. And I really did not understand why the book is named Luminaries. I believe I missed something, but I'm not curious enough to find out what. My favorite thing about the book is all the characters and their fates. There is a lot of sad and happy events and a lot of history about how they came to New Zealand and all. And it is interesting how their lives changed and connects to each other in ways that I don't think many of them understood. And how their lives changes just because of some stuff that's happened to one character affects another character and then it just goes on and on in a kind of domino effect. I loved some characters and hated others. Some of them I did not understand and some of them felt overrated.
But all in all it was an great story to follow. I do believe that this book, with the right director, would be great as an movie. It is an mystery and quite well one to. Hard to anticipate how it all hangs together until the end. And quite confusing. I don't feel that my review is any less confusing, this is an hard book to put in words.