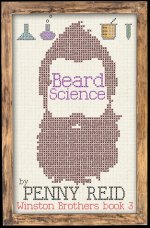 | GOODREADS | MY RATING: ♥ ♥ ♥ ♥ ♥|
Goodreads synopsis: Make a deal with the devil and you might get what you want, but will it be what you need?
Jennifer Sylvester wants one thing, and that one thing is NOT to be Tennessee's reigning Banana Cake Queen. Ever the perpetual good girl and obedient daughter, Jennifer is buckling under the weight of her social media celebrity, her mother's ambitions, and her father's puritanical mandates. Jennifer is officially desperate.
And desperate times call for Cletus Winston.
Cletus Winston is a puzzle wrapped in a mystery covered in conundrum sauce, and now he's in a pickle. Despite being convinced of his own omniscience, extortion by the exalted Banana Cake Queen of Green Valley has taken him completely by surprise. So… what's a maniacal mastermind to do?
Likely, the last thing you expect.

My thoughts: I'm quite peculiar when it comes to stories/plots and how they are build. I can still like and even love a book, even though I hate some part of the story. And often it can be a pretty big and important part too. But I do have a few type of stories I prefer not to read at all. I call it my triggers. It is mostly about bad things happening to children, rape (child and adult), pedophilia, missing children, animal cruelty and that type of thing. But then there is some, not as serious triggers that just destroys it for me. Like for an example, I do not like the whole, "older female virgin, has sex for the first time and are now an erotic expert". I'm being ironic here of course. But I do have big problems with the unrealistic way it is (often) displayed in books. And the reason I talk about this before I start the review, is because it is important that you know, how I work and why I reacted as I did to this book. My preconceptions almost stop me from reading it and put it in my DNF shelf. And what a book I would have missed. I'm not a "judge the book by it's cover" kind of person so I shouldn't be a "judge the book by its plot" either! Well that is something I can work on.
So this book is about the "Banana Cake Queen" who are a character we met in passing in the first or second (or both, can't remember) books before this one. This is the third one in the series about the Winston Brothers and I do recommend that you read it in order. Anyway, Banana Cake Queen is a pretty quirky character in many ways. Not only is she a meek and scared 20+ virgin with the love for baking and does not have a backbone, she is also so suppressed by her environment that she interpreters insults as compliments. I feel in love with her from the start. I was afraid that the whole virgin thing would evolve to be one of those books (I HATE) where she has sex for the first time, all is perfect and awesome and now she is a sexual queen with all the experience of a corner hooker and a dominatrix working 40 hours a week. Exaggerating of course. If I hadn't fallen in love with the Queen as fast as I did, my preconceptions would probably have won. And if I knew then, what I know now, I would have been really, really sad. This is such a great book that no one should miss.
The funny thing is that Jennifer is not really a meek and scared character without a backbone. You get to follow here in her everyday life, trying to reach her dreams. She defies and blackmail to get what she want. And that is how we meet Cletus. He is one of the brothers from the first two books. Quite weird character really. Has some serious compulsion disorder (that no one sees as OCD) and great humor. I love him! I love to follow Jennifer throughout the following months and through all that is happening. I love to read about smart, wonderful but completely dense Cletus and his ways of helping family and friends. I love to meet all those other characters again that I meet and fell in love with in the first two books. This is a series where when you read, you feel like you have come home. You are meeting your friends again and you aren't even envious on the Heroin because it all is just so damn perfect. In a non-Cinderella perfect way.
Gosh I don't make any since right? I do not know how I should explain this without risk spoilers or more rambling. That is just how good this book is.