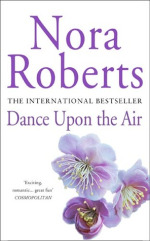 | GOODREADS | MY RATING: ♥|
Goodreads synopsis: When Nell Channing arrives on charming Three Sisters Island, she believes that she's finally found refuge from her abusive husband—and from the terrifying life she fled so desperately eight months ago… But even in this quiet, peaceful place, Nell never feels entirely at ease. Careful to conceal her true identity, she takes a job as a cook at the local bookstore café—and begins to explore her feelings for the island sheriff, Zack Todd. But there is a part of herself she can never reveal to him—for she must continue to guard her secrets if she wants to keep the past at bay. One careless word, one misplaced confidence, and the new life she's created so carefully could shatter completely. Just as Nell starts to wonder if she'll ever be able to break free of her fear, she realizes that the island suffers under a terrible curse—one that can only be broken by the descendants of the Three Sisters, the witches who settled the island back in 1692. And now, with the help of two other strong, gifted women—and with the nightmares of the past haunting her every step—she must find the power to save her home, her love…and herself…

My thoughts: This was the first time I read something more supernatural, written by Nora Roberts and since I do like her other books, I didn't expect anything less. Well I shouldn't have expected anything at all. Because this was certainly not my type of book and a complete waste of time. So why didn't I DNF it you wondering? Well I'm a sucker for the whole "woman on the run from bad guy, find a new home, new friends, new life, new love but her past comes back and hunts her." plot. Some old school romantic suspense. Never fails me. So I thought.
I think it is the paranormal aspect with the book that bugs me the most. It feels so unrealistic and worn-out. No real excitement or suspense. Oh and the characters. I have never seen Roberts as any less than an author who stands for strong and independent females and good, great guys. But Zack in this book, is not a great guy. He pushes and pushes even though Nell has told him that she cant get involved with anybody not even him. Then he pushes some more, they gets involved and than HE gets mad because she has not told the truth about her history. Well F*** you! She was as honest she could be from the start and Zack didn't listen. He kept pushing. He kept taking over. Not letting her find her footing and kept stearing her the way he wanted her to go. That is not her fault. And he didn't make her situation easier.
Oh man. Do you see my problem here? It was terrible and I'm honestly disappointed on Roberts. This is not an series I will continue to read. And from now on I will probably stay with the other type of genres by Roberts and stay away from the paranormals. I do not feel that, that is her strong suit.
And the last thing I wish so complain about is the writing. It is written in a point of view way, for every character and the chapters are to crowded. It was hard to keep track on who is talking when. Overall the book is in such a bad quality that if I didn't already know, I wouldn't have though this was a Roberts book. That is how different it all is.